Today I present to you the HL 40 solar powered flashlight by Hybrid Light LLC. It's a 40 lumen light that recharges on its own using any and all available light, from the purest sunbeams to your kitchen lamp. Built-in monocrystalline solar cells are encased in a heavy plastic and rubber body that's grippy and waterproof. Best of all, this light uses rechargeable lithium ion battery technology, so you'll see a strong performance over a long period of time.
Hybrid Light has been around for 8 years and counting, and their rounded approach combines a quality product, sustainable production, solid performance, and great customer service. It grants the company a big advantage in a market of cheap solar lighting.
Performance – 7
Overall, there is a good amount of power that comes from this light. 40 lumens shine forth from the HL 40, which is the smallest of the flashlights offered by Hybrid Light. This is not the brightest flashlight, per se, but for common purposes (i.e. not sweeping the skies for enemy night bombers) it performs above expectations. I've found that it penetrates about twenty feet into the darkness and also serves well under dim conditions. Charging takes some time, usually the course of a full day under the sun, but a single charge will power the HL 40 for a full 8 hours. What's more, the batteries can hold their charge for up to 7 years! That's a huge advantage when considering an emergency tool. This flashlight, as long as you've been diligent and allowed it to charge, will be ready at a moments' notice—no dead batteries at times when you need it most.
Construction Quality – 8
Everything about the HL 40 speaks of durability. The flashlight is manufactured and distributed in Utah, so there is the benefit of Made in the USA quality standards. The main body, which is made to be just the right size for a handheld device, is constructed of a tough plastic case (one piece mold construction) that's capped on the ends with thick rubber guards. These guards serve dutifully as protection against a fall of up to five meters.
Covering the solar cells is a clear plastic, again with a feel of sturdiness, but I've found after much use that this section tends to scratch. Not a big deal unless you're concerned with the looks of your lamp. This may be the chink in the armor (a demo video has the CEO firing a rifle at the HL40, and nothing but the clear solar cover falls off), but it would need serious abuse from the user to fall apart.
One advantage of the HL 40 that isn't so heavily advertised is that it's waterproof and, in fact, floats! Bring it in the rain, bring it on your canoe, and don't worry about shorting out your batteries.
Attached to the butt end, there's an adjustable wrist strap made of nylon rope. It's just the right size and its smooth weave helps to prevent irritation during wear.
Ease of Use – 8
This torch is very easy to use, with just a single button that alternates between three settings: off, solar, and battery. In order to charge, the light is required to be in the off setting and placed under some kind of ambient light (of course sunlight is the best, but it can charge even in the light of a campfire!). When charging, it'll show a soft red light. There are also indicator lights for the solar and battery settings.
The second setting, solar, is sort of a worthless example of design redundancy. In this mode the flashlight runs directly on the available light; the battery is not being charged or used. The obvious flaw is that if there's enough light to power the HL40 without using the battery then there's probably enough light to see what you're doing. I've never encountered a situation where this setting has been useful. Instead, I just click twice to get to battery power. (One situation I could conjure was trying to see into a dark cabinet, and you can shine the light into the cabinet while keeping the solar cells outside and exposed to the overhead light).
Maintenance – 9
The lifetime warranty may take care of defects, but it doesn't cover battery life. Luckily Hybrid Light has made it easy to replace the lithium ion CR2032 batteries. The back end of the flashlight unscrews and lets out the pair of tired batteries. You can buy replacement packs of six CR2032s for around $7. If you take care not to destroy your HL 40 during its lifetime, then you won't need to do anything other than clean some of the dust or dirt that can accumulate. The warranty will cover the rest.
Brand Reputation – 8
Hybrid Light LLC has been in business since 2006. They've been registered with the Better Business Bureau at an A+ rating since 2009 with 0 complaints. Checking their website, one can find a myriad of testimonials from satisfied customers, and a bookshelf of videos, some featuring the CEO Terry Peterson demonstrating their products. Their Utah offices are responsive to phone calls (they called me back shortly after getting my voicemail, no hold time).
Hybrid Light LLC appears to have a narrow focus that evolves from hybrid flashlights into hybrid lamps and then to pure solar cell banks. There are a couple of miscellaneous accessories, like a clip to attach an HL 120 to your bike's handlebars or a tool to gut and clean fish, but my point is this company is probably putting a lot of effort into making a great flashlight.
Also, it's pretty cool to see how they help improve the lives of people in developing countries, for example a tribe in Kenya that you can see pictured below.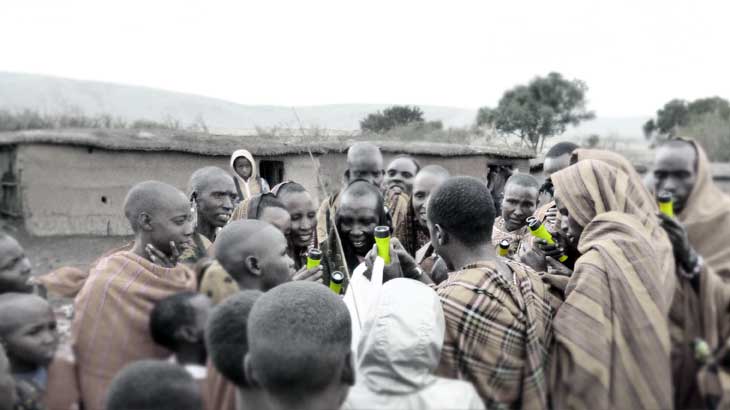 Guarantee – 9
The HL 40 comes standard with a Limited Lifetime Guarantee. It's warranted against all defects in material and workmanship, excepting abuse, batteries and accidents. When you replace it you'll get a new flashlight, batteries not included. You won't get your money back for shining this light underwater, but you should expect a solid long term performance, especially with the company offering such a great warranty.
Sustainability – 8
Hybrid Light has shown a commitment to sustainable practices, despite having a product that uses gracious amounts of plastic in its development. There's also the need to consider that creating solar cells, mining lithium for batteries, and manufacturing LEDs all contribute to a high energy cost. But there are a few things that stand to counter these points.
Follows the Green Initiative's guidelines

Made in the USA—more controls on things like pollution and fair labor standards

Lifetime Warranty—dedication to reducing needless waste

Replacement of conventional battery-powered flashlights—30 hours of life compared to 10 hours from disposable D-Cell batteries (The LED will last for 100,000 hours)

High efficiency shipping—more pallets in fewer trucks equals smaller carbon footprint

Recycled packaging—both plastic and paper are made from recycled products
Overall, it appears that Hybrid Light is doing its best to make a great product that will last a long time and contribute as little as possible to greenhouse gas emissions. Plus every purchase shows an increased demand for solar cells, helping the market in a small way.
Self-Reliance – 6
The HL 40 is a flashlight, and its purpose is to shine light in dark places. But the HL 40 is a lot more than just a flashlight. It's like the friend you call when you get stranded on the highway, the one always there to help. The HL 40 is always ready for you, with a big bright shine and a grip like a handshake. It's not a common flashlight with conventional batteries that suffocate in your tool box or on the top shelf of your closet, leaving you stranded when a storm cuts out your power. The HL 40 is your friend for life (for the lifetime of the battery anyway). Hybrid Light's guarantee makes sure of this—you just have to do your part and show it some sun. At least once in a while.
Value – 7
Directly from the website you'll find the HL 40 vends for $24.95 ($12.99 here on Amazon). Other, more powerful models exist for a few dollars more, but I digress. The HL 40 can be found for as low as $20 in buy one get one sales on sites like Amazon, which can be a good deal but may not come with the excellent warranty offered by the original company.
Comparing the HL 40 to other products that customers are looking at, we can see it stands out as a uniquely American-made product with a strong preference for quality. I would expect a much better long term performance from this flashlight over other LED torches that are imported or underpriced.
Excitement – 7
The era of the shake-light, the flashlight that runs on kinetic energy, has ended. The dawn of photovoltaics has arrived (although they've been around for 50 years), and we can reliably depend on the solar cell to make our energy.
As a professional in the solar industry, I absolutely love packing this item for use in my quasi-adventurous lifestyle. It was indispensable during my backpacking adventure in Europe, especially when I'd arrive late at a hostel and instead of turning on the room light I'd just grab the HL40. It was always fully charged even though it stayed hidden in my backpack over those 15 months. What's more, it's been a great companion on evening walks in the woods, hiking trips, and numerous camping getaways.
Specifications
Length: 7 inches (17.8 cm)
Weight: 4 oz (200 grams)
Brightness: 40 lumens super bright LED
Charging time: 8-10 hours to fully charge via solar
LED Lifespan: 100,000+ hours