The 3 Tactics to Create Water Abundance For Your Home & Garden
Discover the tactics that will give you an abundance of water, even through droughts and water shortages.
THE 3 HORSEMEN OF WATER DISRUPTION. AND HOW TO PROTECT YOURSELF
THE 8 PRINCIPLES OF SUCCESSFUL WATER HARVESTING FROM THE #1 EXPERT ON WATER HARVESTING
THE TWO MAIN TYPES OF WATER HARVESTING... WITH REAL LIFE EXAMPLES!
THE PERFECT CASE STUDY OF WATER HARVESTING DONE RIGHT... HIS LITTLE FARM IS KNOWN WORLDWIDE
…AND MUCH MORE!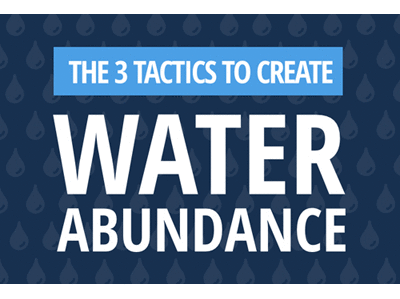 (enter your email address below and click the "Get Instant Access!" button to get your guide)
YES, I Want The 3 Tactics to Create Water Abundance!
We value your privacy and would never spam you
By signing up you'll also receive access to the "Walden Labs" bi-weekly newsletter, exclusive offers, and helpful tips. View WaldenLabs's Privacy Policy.
Implementing these three tactics makes it possible to harvest enough water to grow a large and bountiful food garden, quench your thirst, stay clean, and can give you enough water reserves to eliminate worries of water shortages due to natural disaster or due to a breakdown of aging water infrastructure.

This guide will show you the tactics available for becoming an active producer of water rather than a passive consumer of it.

Dan West


Co-Founder & CEO, WaldenLabs.com