The benefits of grinding your own grains are many, one benefit being that you avoid the highly processed and refined flour that you buy in the store. That stuff is dead! Whole grain flour is healthier, plus whole grains store much longer than flour.
While you could grind your own flour with just stones you'll want a proper grain mill to do it effectively, for example the Country Living Grain Mill.
The Country Living Grain Mill is one of the most well known (and well regarded) grain mills on the market, it's US made and has a lifetime guarantee.
The bottom line?
We like it a lot. Here's why:
Performance – 8
The Country Living Grain Mill will grind all grains, large or small, hard or soft, into flour varying from fine to coarse grits. During my tests I've tried grinding wheat, rye and spelt and it has worked wonderfully (I've baked some great pizzas and breads in the process).
The burr grinder consist of two high-carbon steel grinding plates and the factory setting will give a nice, fine flour ideal for baking. As mentioned though, you can adjust the coarseness from cracked wheat to pastry flour.
The double sealed agricultural-grade bearings make it easy to grind, although you'll still get a good workout if you need a lot of flour. I got ~0.42 cups (1 deciliter) of flour per minute of grinding when turning the handle (with the power bar) at 1 revolution per second, so when I bake I'll usually have to grind for 10-20 minutes depending on what I'm baking.
I also got the grinding power bar, an accessory that gives you extra power when you grind by increasing the leverage. It's well worth the extra cost.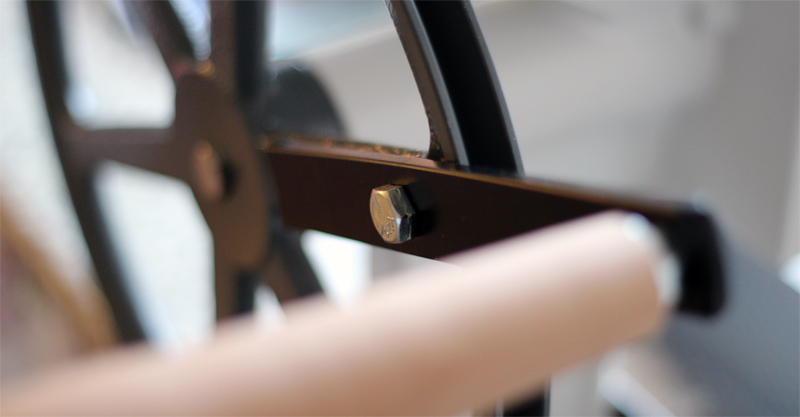 The grinding power bar accessory
Now, if you don't want to spend your time grinding manually by hand then you can either attach it to a bicycle or even get an electric motor and fully automate the grinding. Country Living sells an accessory package to fully motorize the Country Living Grain Mill, but of course you could also do it yourself if you have a suitable motor laying around.
Overall, this is a versatile and high performing grain mill that I'm certain will deliver quality flour for years to come. But be prepared, you might get arm muscles!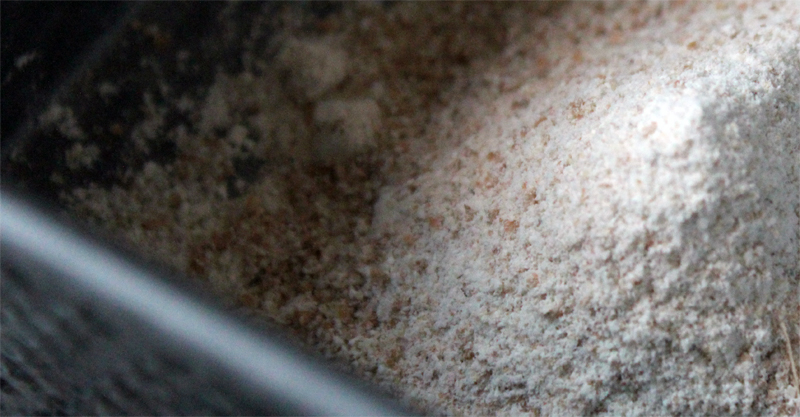 The result
Construction Quality – 9
This grain mill has a solid I-beam construction and it's made from cast aircraft aluminum, making it extremely durable yet light weight.
Some people might worry about the aluminium getting in contact with their food, but don't worry, the Country Living Grain Mill is fully coated in an FDA approved, food-grade powder coating that not only looks great, it's also very strong.
As mentioned the burr grinder consists of two high-carbon steel grinding plates that are attached to a stainless steel shaft.
When they started manufacturing the Country Living Grain Mill they used a cast iron plate made from sand castings, but they decided that was not good enough because there was not enough control over every aspect of the grinding plate.
Instead they created an injection die that would allow them to create individual wax patterns for each set of plates, much like artisans of fine (and very expensive) sculptings for centuries have used this "Lost Wax" process for reproducing their masterpieces.
Shells are made using the wax patterns and then 3,000 degree molten high-carbon steel is poured into the shells. Once cooled and hardened, the plates are then machined to assure complete flatness.
The grain mill utilizes two industrial-grade ball-bearings rather than brass bushings as commonly used by other grinders. The double sealed ball bearings not only increase the stability of the drive shaft but it also reduces bearing strain.
The Country Living Grain Mill is built to last, and every part of it oozes quality. Considering the high quality it's not surprising that they offer a lifetime guarantee.
Also, it's made in the USA.
Ease of Use – 8
I was up and running with my mill minutes after I unpacked the box. The assembly was dead easy, and in case you'd rather watch a video than the included instructions then they provide excellent how-to videos on their Youtube channel. For example this one, where they assemble the Country Living Grain Mill:
Changing the coarseness of the flour is as easy as turning the adjustment wheel.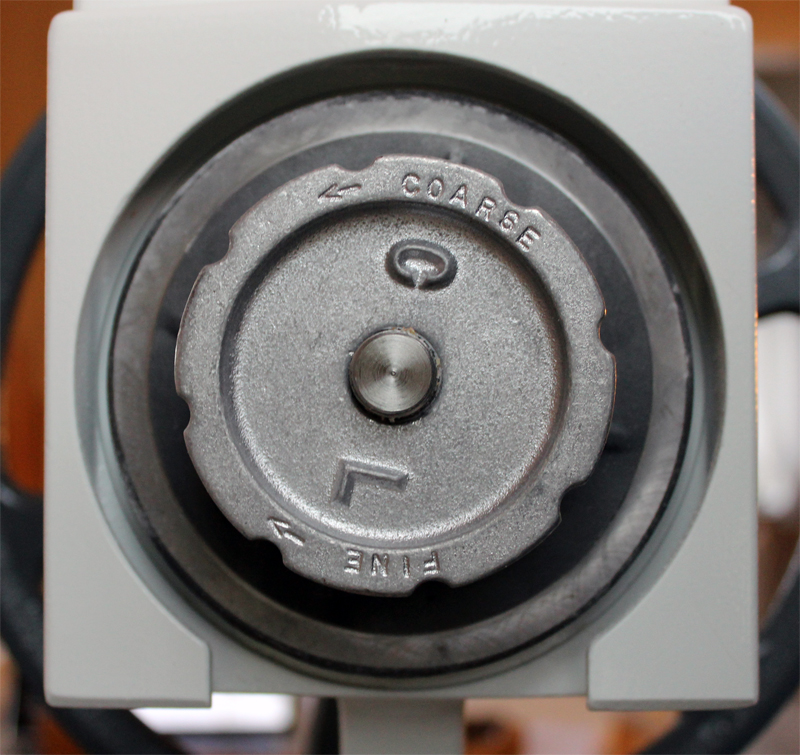 Adjusting the coarseness
And as for grinding, yes you will get a good workout but it's still no problem for anyone of average build, young or old, man or woman, to grind the flour. Even kids can do it for shorter periods of time! And they love it.
The key to easy usage is to make sure you fasten the grain mill securely. If you don't, you'll have a very hard time getting any grinding done. Some people bolt it to a wooden platform, but Country Living also sells a very handy counter clamp that makes the job of fastening the mill dead simple.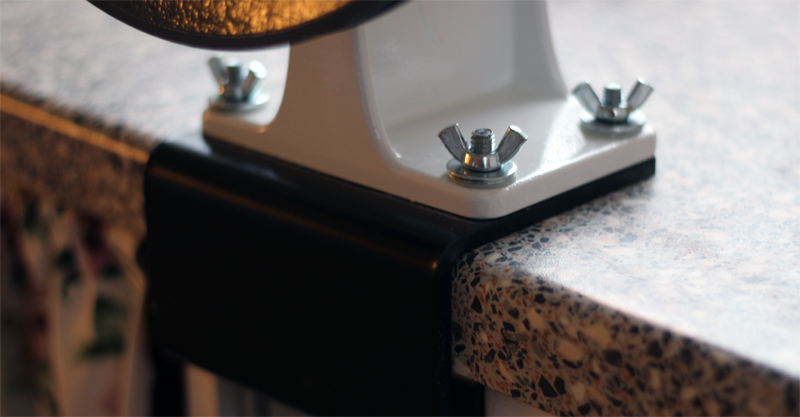 Maintenance – 8
As far as maintenance goes, there's some cleaning involved every now and then. For example any time you switch grains, e.g. from wheat to rye, you might want to clean the mill to make sure there's no wheat left inside the mill.
Cleaning the Country Living Grain Mill is no rocket-science. Take a look at this video and you'll see for yourself how easy it is:
Brand Reputation – 9
Country Living Grain Mills with its founder Jack Jenkins operate out of Stanwood, Washington and and they've been selling their mills for over 35 years. By looking at countless reviews of this mill I can tell you that owners generally love it, and one woman has even had it for 30 years without having to replace a single component.
One reason I can see for people not buying the Country Living Grain Mill is the relatively high price, although as we'll see it's far from the most expensive grain mill in town.
Guarantee – 10
This grain mill comes with a lifetime guarantee. Now that's a solid 10 in by book. The lifetime warranty includes all parts, except the grinding plates which are a wear item. See below for their full terms:
Country Living Products warrants this Country Living Grain Mill to be free from defects in material and workmanship under NORMAL USE and conditions for the lifetime of the original owner which includes all parts, excluding the finish. The grinding plates are warrantied for a period of one (1) year from the original date of purchase. This warranty is voided during this period if the mill is used in any way other than recommended, is motorized by anything other than the kit manufactured by Country Living Products, run without grain in the hopper, or used commercially.
Sustainability – 8
Compared to buying highly processed flour in the store grinding your own flour from whole grains is not only healthier but also more sustainable.
On a higher level one could argue about the environmental sustainability of grain crop monocultures that require inputs of chemical fertilizer and at the same time deplete the soil.
But let's assume we're talking about buying or growing organic, environmentally friendly grains, then owning a grain mill like the Country Living Grain Mill is a big step up on the sustainability scale.
Self-Reliance – 8
If you can get your hands on whole grains in quantity, or grow some yourself, then having your own grain mill goes a long way towards self-reliance in the food-area.
Now, grains, flour, bread, or pasta isn't the healthiest food on the planet, but it will keep you alive in good times and bad (and it's pretty darn good).
Bread has been a food of choice for thousands of years, pretty much since the dawn of agriculture 10,000+ years ago, and unless you're a hardcore Paleo-fan or other non-grain eater then you'll get lots of joy from a grain mill.
Value – 8
The Country Living Grain Mill will set you back $429.00 in the official web store, and I also recommend you pick up the grinding power bar ($25.95) and the counter clamp ($49.95).
There are some other nice accessories that are nice to have, for example the custom flour bin($25.95) and the hopper lid($16.95), but you can do just as well without it. It just makes it look a bit more polished.
So what other alternatives are there?
Another popular grain mill is the solid cast iron Diamant Grain Mill sold by Lehman's, but at over twice the price ($999.00) it's out of reach financially for many people. It's made in Poland and has the same versatility as the Country Living Grain Mill, it can grind virtually anything (without need of additional augers).
A lower budget alternative is the Victorio Deluxe Hand Operated Grain Mill ($78.56 on Amazon), and while it's not comparable in terms of construction quality it does have favorable reviews and will still get you better flour than the dead stuff you buy in the supermarket.
Comparing alternatives the Country Living Grain Mill looks like a pretty good choice if you're willing to invest money in something that will last you a lifetime, and are serious about putting it to good use in your home. If on the other hand you're just curious about grinding your own grains and you're not sure how much you'll use it, then a cheaper alternative might make more sense for you (as a start!).
Excitement – 9
The Country Living Grain Mill is a rugged and durable mill, designed to last for generations. I'm excited about anything that can outlast me and be passed down to future generations, and this grain mill is no exception.
Specifications
Weight: 21.00 pounds (9.525 kg)
Solid I-beam construction from cast aircraft aluminium
Double sealed agricultural-grade bearings
FDA approved, food-grade powder coating
Stainless steel shaft
High-carbon steel grinding plates
Adjustable output; from cracked wheat to pastry flour in one pass