I bought Goal Zero's Guide 10 Plus Solar Kit because it seemed like the perfect solution for keeping my smaller gadgets charged while on the go, and for providing a backup charging solution at the homestead.
What sets this kit apart from other similar kits (e.g. the Voltaic Systems 7 watt kit) is that the charger uses rechargeable AA batteries, and can also charge AAA batteries with the included insert. This adds another dimension of flexibility to the charger, because you can not only charge smartphones and tablets but also your flashlights, portable radio, and more.
The kit consists of two separate products; the Guide 10 Plus Recharger battery pack (comes with 4 AA NiMh batteries, 10Wh capacity) and the Nomad 7 Solar Panel, and while I'm testing them separately the overall score will be based on the two products being used as a unit.
Performance – 9
To find out how the Nomad 7 and Guide 10 Plus battery pack holds up to real use I put it through a couple of tests to charge various devices both straight from the solar panels and from the battery pack. Nothing scientific, just hands on real world use. The results are in:
Test #1: Charging Google Nexus 5 from battery pack
For this test I let my phone fully discharge to 0% and then plugged my micro USB cable into the battery pack and turned on the charging-mode. After 37 minutes I turned on the phone and the battery had been charged 12%. However this is where I ran into problems.
Charging with the phone turned off worked fine initially, but when I turned it on it only charged for a few seconds and then it stopped. I can turn off and turn back on the charging and then it shows the green light (indicating that it's charging) but after a few seconds it turns to red (indicating that the battery is out of power, which it isn't).
I tried charging a Samsung Galaxy S3 to confirm that there is indeed power in the battery pack and that phone charges without issues from the battery pack.
I also tried charging my Amazon Kindle Touch 3G and experienced the same problem as with the Google Nexus 5. No charge.
After troubleshooting this and digging around the internet I've found out that… Surprise!
Apparently I need one of Goal Zero's USB Smart Adapters to be able to charge certain newer smartphones and tablets, because phones require anywhere from 0.5 Amps to 2 Amps for charging and out of the box the Guide 10 Plus does not seem to provide the correct Amps to be able to provide a charge to my Kindle or Nexus 5.
This makes me frustrated to say the least, because nowhere in their sales material or on their product pages do they mention anything about needing an adapter. Nowhere. Not even in one of those little disclaimers in fine print.
My thinking is that if you need this adapter to actually be able to use their products according to their claims then maybe they should include this relatively cheap USB Smart Adapter with their power packs to start with? That feels like a better option than letting customers find it out when they're holding the products in their hands.
I can't give this solar kit a good score performance-wise until I've tried the USB Smart Adapter. See my update below!
The good news for US residents is that the adapter will only set you back $4.79, so it's not a big deal to add it to your order when you purchase the kit.
The bad news is that their cheapest shipping option to my little cabin in Sweden is $37.96, which is a joke. I'm sure it's no different for other countries outside of North America.
I've reached out to Goal Zero to see if they can arrange some cheaper shipping for me, and I'll update this part of the review once I've tested if the USB Smart Adapter solves the problem (in which case I'll adjust the score).
Update: Smart Adapter has arrived!
Goal Zero support was very helpful with sending me the smart adapter, and in full disclosure they paid for the shipping and even gave me the smart adapter for free so I could see if that solved my issues.
It did.
I have no problem charging my smartphone or Kindle now, so I've adjusted the score from a 6 to a 9. Now that it works, I couldn't be happier with the performance of this kit.
Test #2: Charging Google Nexus 5 straight from the Nomad 7 solar panels
Charging my Google Nexus 5 straight from the Nomad 7 solar panels works well, even with clouds in the sky, so no complaints there. It also managed to charge my Amazon Kindle Touch 3G without issues.
Test #3: Charging various third party batteries from the Nomad 7 solar panels
I tried charging two different external batteries, and here are the results:
Construction Quality – 8
Nomad 7 Solar Panel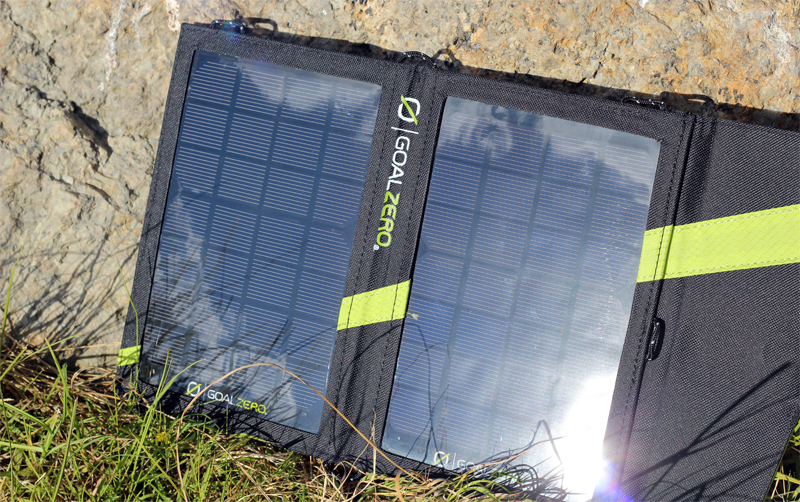 The Nomad 7 Solar Panel is a foldable 2-panel build with the output ports on the back inside a mesh pocket, which is perfect for holding the battery and your phone while charging. It's 0.8 lbs (363 g) and feels light in the hand.
The solar panels are monocrystalline solar panels, which have the highest efficiency rates since they are made out of the highest-grade silicon.
Monocrystalline solar panels also have the highest life span and many solar panel manufacturers guarantee their panels for 25 years. However, this makes me wonder why Goal Zero gives an expected lifespan for their panels of only 5-8 years. Does that say something about the quality of their particular solar panels? I don't know, but it's a valid question to ask.
The solar panels are sewn into place in a reinforced canvas holder and the stitching looks and feel sturdy, and it keeps folded thanks to a magnetic lock that has just the right strength.
The only weak point on the kit is the zipper for the mesh pocket. I'm sure the zipper will hold up for a good amount of time, but if something is to break on this thing then I'd bet on the zipper.
Guide 10 Plus Recharger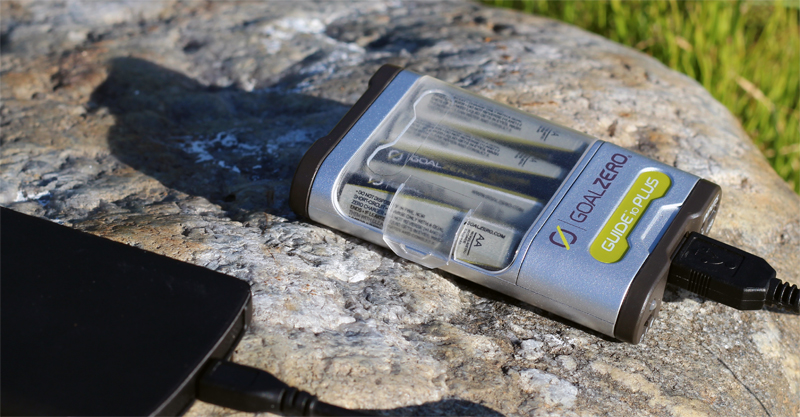 The Guide 10 Plus Recharger comes with four AA Nickel Metal Hydride (NiMH) batteries and an AAA insert for charging AAA batteries (batteries not included). The casing is all plastic but still has a sturdy feel to it. I suspect though that it could take some serious damage if you happen to drop it on a hard surface, especially the thin hinges for the battery cover.
Goal Zero sells a silicon sleeve for the Guide 10 that can add some extra protection, but I'll likely store it in the mesh pocket at all times so the risk of dropping it should not be that significant.
The weight with batteries is 0.4 lbs (181 g), so the total weight of this kit is 544 grams. Not much added weight for a camper, but ultra light backpackers going on shorter hikes might prefer just a higher capacity external battery and skip the solar panels.
Overall, this feels like a high quality product that should last me a good while.
Ease of Use – 8
The Nomad 7 solar panel is very easy to use. As you can see in my photo below of the Nomad 7 there are four output ports from the junction box inside the back mesh pocket: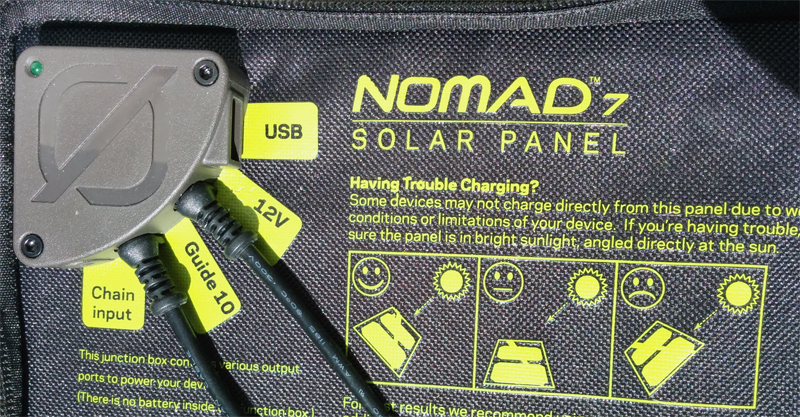 USB port, where you can plug in the included USB cable or your own USB cable
A 12V cable where you can plug in the included 12V cigarette adapter to charge 12V gadgets or Goal Zero's Sherpa Power Packs
A Guide 10 cable that plugs into the Guide 10 Plus Recharger input port
A chain input where you can chain multiple Goal Zero Nomad solar panels
To charge your gadget, just choose the preferred output, fold out the panels and aim them towards the sun. If it's charging successfully the green LED on the junction box will light up.
If you're on the move and are carrying a backpack then it's easy to hang the Nomad 7 on the backpack using the one or several of the nine (9) attachment points, as illustrated in the below photo.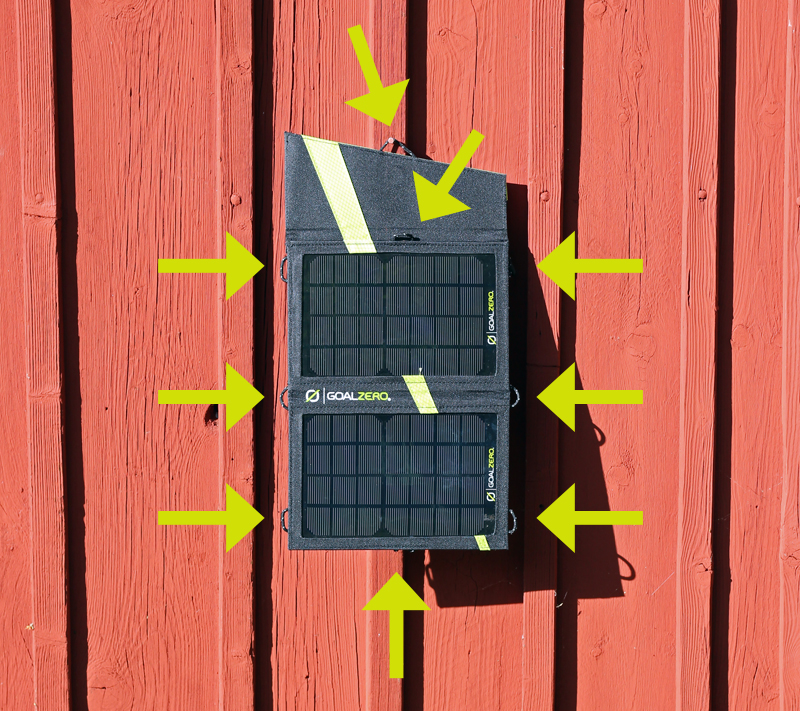 As for the Guide 10 Plus Recharger, all the action happens on the side shown in the below photo.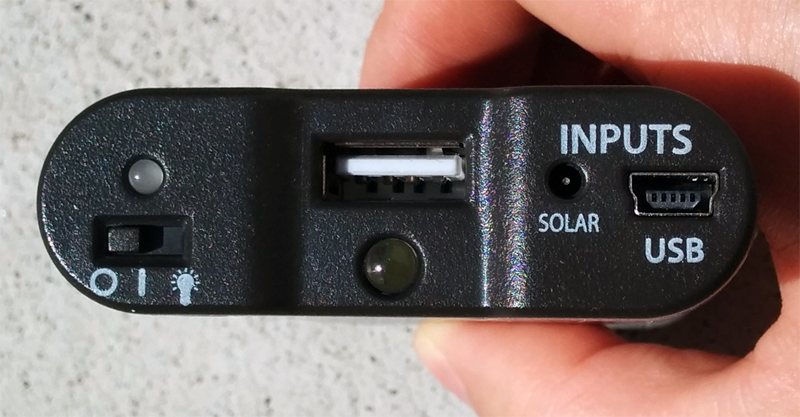 To the left you've got a LED indicator and an on / off / light button that controls the charging and the flashlight.
In the middle you see the USB output for charging your gadgets, as well as the LED flashlight.
To the right you see the two power inputs where you can charge from the Nomad 7 Solar Panel as well as any USB source with the included cable.
Maintenance – 9
This kit does not come with much maintenance. The Nomad 7 solar panels (and solar panels in general) have no moving parts, and the only maintenance to speak of is to keep the solar panels free of dust with a wipe every now and then.
As for the batteries there are no moving parts there either. The AA / AAA batteries will lose their "juice" as time passes though, so count on buying new batteries down the road. To keep the battery fresh Goal Zero says it's ideal to store it plugged into the wall. But for long periods of non-use they recommend you plug it in every 1-3 months to keep it in good health.
Brand Reputation – 7
Goal Zero is a young company that was founded in 2009 after its founder Robert Workman had spent a few years in the Democratic Republic of Kongo doing humanitarian work.
Since then they've helped and donated Goal Zero gear in the aftermath of pretty much every major natural disaster. The Haiti earthquake, the Japan tsunami, Hurricane Sandy, Typhoon Haiyan, and more. I think that says a lot about a company.
Their product range is well regarded all across the web, but keep in mind this is a young company with products still in development, which shows with things such as the USB Smart Adapter.
Guarantee – 6
As stated on their website:
GOAL ZERO LLC ("GOALØ") warrants to the original consumer purchaser that this GOAL ZERO product will be free from defects in workmanship and material under normal consumer use during the applicable warranty period…
In the case of this kit, the Nomad 7 solar panel comes with a 1 year guarantee and the Guide 10 Plus Recharger comes with a 6 month guarantee.
If your product breaks "due to a defect in workmanship or material" during the warranty period then Goal Zero will repair or replace it for you. Just save your sales receipt.
This feels like a pretty standard guarantee. Nothing spectacular, just the basics you would expect.
Compare the 1 year and 6 month guarantees to another well known company in the solar charging space, Voltaic Systems, that offer a 2 year guarantee on their solar panels and a 1 year guarantee on their batteries. That's twice the warranty period, and that's significant.
Sustainability – 6
Is the Guide 10 Plus Solar Kit sustainably produced? No. It takes a lot of energy to produce solar panels, cables, batteries, circuit boards, plastic, etc.
Does the gains in personal energy generation outweigh the energy required in production? To be honest I don't know.
I'd bet that you pay more per watt hour buying this kit than what you pay for your grid electricity though, so don't expect to save significant money on the "free" energy you'll be able to generate.
But this product should allow you to charge some of your gadgets entirely from the free energy of the sun for the better part of the year for the lifespan of the Nomad 7 Solar Panel, which Goal Zero puts at 5-8 years.
Solar panels are becoming more and more efficient and cheaper to produce, and keeping in mind that the Nomad 7 Solar Panel is just one step on that journey I think it's a step in the right direction.
Self-Reliance – 8
The Guide 10 Plus Solar Kit can potentially take all of your gadget charging off-grid, depending on how many sunny days you have per year.
I live up in northern Sweden so I've got more than enough sun in the summer time, but during the dark winter we only get a few hours of sunlight per day (at best) so it won't be enough for me to keep my gadgets charged year round.
But overall this kit does boost your self-reliance in a significant way.
Of course if you ask someone like Henry David Thoreau he'd tell you to do without your gadgets and save yourself the hassle, but chances are you're not ready to give up your smartphone just yet.
Now, I've lived in an apartment with a balcony and windows that have sun exposure most of the day so I've been able to put this kit to good use even while indoors. I've now moved out to the countryside where I'll get even more use for it, but regardless of where you live you'll find that this kit can do wonders for your self-reliance and resilience during both power outages and hiking trips.
Value – 7
The Guide 10 Plus Solar Kit cost $129.98 on Goal Zero and $119.70 on Amazon. That price include the Nomad 7 solar panel and the Guide 10 Plus Recharger with 4 AA batteries, an AAA insert, and a 12V cigarette adapter.
Breaking the price down into its separate pieces, Goal Zero sells the Nomad 7 Solar Panel for $79.99 and the Guide 10 Plus Recharger for $49.99.
As the Nomad 7 provide 7 watts of solar power that means that you pay roughly $11.4 per watt.
Now, the estimated life span of the Nomad 7 solar panels is 5-8 years, and if those claims are correct then the Nomad 7 price of $79.99 translates to roughly $10 to $16 per year of use. I don't know about you, but I find that a reasonable price to pay to be able to charge my gadgets independently of the power grid.
I've looked at comparable solar chargers to get a sense of the price, and the 7 Watt Solar Charger Kit by Voltaic Systems fits the bill. This product will set you back $149 and with the battery component costing $79 that means you pay $70, or $10 per watt, for the solar panels. So the price per watt difference is negligible at a 7 watt power rating.
Excitement – 9
Slipping the Guide 10 Plus Kit into my backpack whenever I leave the house feels great, and it has most of the things I look for in a solar charging solution.
It's small and portable, simple and easy to use, a sturdy build, and above all it does a good job of keeping my gadgets charged.
We've had a lot of sun in the past few weeks so I've been charging my Nexus 5 and Kindle straight from the solar panels. As I wrote in the first section I need the USB Smart Adapter to be able to charge from the Guide 10 Plus Recharger, and that unexpected hassle brought the excitement down quite a bit. I'll just have to charge my Anker 12,000 mAh battery for now, and update this review once I've tried out the adapter. The Smart Adapter has arrived and it works wonders, so my excitement is back!
Overall, this solar kit is a keeper.
Specifications
Nomad 7 Solar Charger
General
Product SKU: 11800
Weight: 0.8 lbs (363 g)
Dimensions (unfolded): 9 x 1.5 x 17 in (22.9 x 3.8 x 43.2 cm)
Dimensions (folded): 9 x 1.5 x 6.5 in (22.9 x 3.8 x 16.5 cm)
Certs: CE, FCC, ROHS
Warranty: 12 months
Ports
USB Port: 5V, up to 1A (5W max), regulated
Solar Port (blue, 8mm): 15V, up to 0.3A (5W max), regulated
Mini Solar Port (2.5mm): 6.5V, up to 1.1A (7W max)
Solar Panel
Rated Power: 7W
Open Circuit Voltage: 8-9V
Cell Type: Monocrystalline
Goal 10 Plus Recharger
General
Product SKU: 11406
Chainable: No
Batteries: 4 AA batteries required. (included)
Manufacturer Part Number: 41022
Weight (w/batteries): 0.4 lbs (181 g)
Dimensions: 2.5 x 4 x 0.75 in (6.4 x 10.2 x 1.9 cm)
Operating usage temp.: 32-104 F (0-40 C)
Certs: CE, FCC, ROHS
Warranty: 6 months
*When using Goal Zero NiMH rechargeable low self-discharge AA cells.
**AAA Cells require an adapter which is included with purchase.
Charge Times
Any USB Power Source: 6-10 hours
Nomad 7 Solar Panel: 3-6 Hours
Ports
USB port (output): 5V, up to 1A (5W max), regulated
USB-mini port (input): 5V, up to 0.8A (4W max), regulated
Mini solar port (input): 6.5V, up to 1.1A
Battery Details
Cell Type: NiMH
Peak Capacity: 11Wh (4.8V, 2300mAh)
Single Cell Equivalent Capacity: 9200mAh at 1.2V
Lifecycles: hundreds of cycles
Shelf-life: Keep plugged in, or charge every 3-6 months
Fuses: none
Management system: Charging and low-battery protection built-in
Light Detail
LED Output: 100mW, white LED