I've carried the Bahco Laplander Folding Saw with me on many trips in the woods the past couple of months, and it's a neat little tool.
It's 6.67 ounces (190 grams) and folded it's only 9 inches (23 cm) long and has supposedly been developed to be reliable, compact, light and quick and easy to use whether you're out camping, practicing your bushcraft or pruning your backyard garden.
It's admired by outdoorsmen all over the world.
But does it live up to the hype out in the field?
Performance – 8
The Bahco Laplander is dimensioned for cutting branches and felling small to medium trees, and with medium trees I mean up to 5 inches in diameter. Its 7 inch (19 cm) blade length makes it impractical to saw through anything bigger than that. You could, but why would you? There are better tools for big trees.
The Laplander is also marketed as being capable of cutting through plastic and bone. I can testify to the first claim but not the latter because unfortunately I don't have big bones lying around the house and I'm a vegetarian so I'm not eager to buy one either.
The XT toothing (which is very sharp) is designed for cutting in both directions, so it cuts when you push and it cuts when you pull.
And it does cut very well. As long as you don't take on too large of a tree you'll notice that the blade very rarely sticks, and it makes easy work of anything within its capacity.
Another plus is that the blade folds and locks securely both inside the handle and when folded out, which prevents the blade from opening when it shouldn't and more importantly from closing over your fingers.
Construction Quality – 8
One thing I noticed when I picked up the Laplander is that it felt really good in my hand. I got the weird feeling (being a folding saw and all) that I could accomplish great things with it.
It's light, has a good grip, and feels like a solid build.
As for the construction, the 7 TPI (teeth per inch) blade is made of heavy gauge steel and has an anti-rust epoxy coating. The teeth are hardened, meaning it won't dull under normal use and does not have to be sharpened.
The handle is made of shatterproof and high-density plastic with a rubber coating that gives a good grip in most weather conditions, and when wet it does give a better grip compared to wood handles (still not spectacular though).
Included at purchase is a belt and wrist leather lanyard for carrying the saw. While it likely does not cost more than a couple cents for the manufacturer it does add a nice touch and some extra security in case you drop the saw while climbing a tree.
Ease of Use – 10
The Bahco Laplander is a pleasure to use. The number one thing I like about it is the razor sharp cut. A sharp saw is a safe saw, and it's even safer to use because of the self-locking mechanism.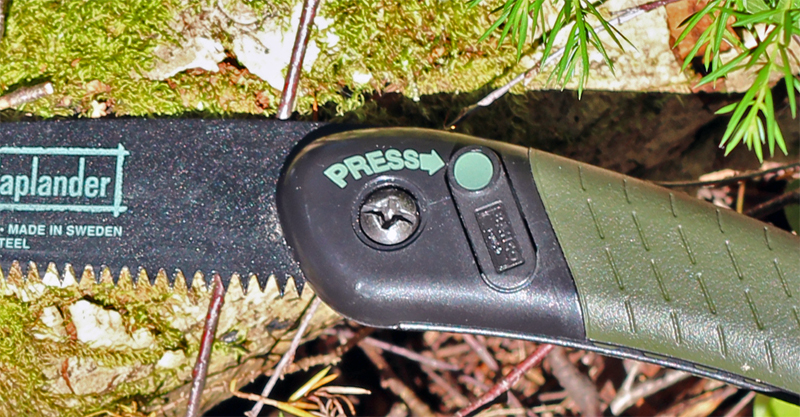 Now, I'm sure you've heard this before but it doesn't matter how great a tool is if you don't have it with you, and this is another reason I like the Laplander saw. It's so light and compact that it fits snugly in my knife pocket so I find myself always taking it with me when I go out. Would I do the same if the saw had twice the weight or size? Not very likely.
Maintenance – 7
As I've mentioned the sawtooths are hardened which means they can't be sharpened with normal sharpening tools. You can however replace the blade if needed, and it's real easy to do. Just loosen the screw all the way out, pull out the blade, insert a new blade, and retighten the screw.
A new replacement blade will set you back anywhere from $12 to $20 depending on where you are in the world and which kind of blade you buy. Bahco offer a few different versions, and you can get cheaper Bahco blades than the original black Laplander blade.
Brand Reputation – 8
The story of Bahco started back in 1886 when Johan Petter Johansson, also known as JP, founded Enköpings Mekaniska Verkstad (Enköpings Mechanical Workshop) in the city of Enköping, Sweden.
JP was a seriously smart guy and went on to invent and patent the modern plumber wrench and adjustable wrench around 1890, during which time the entrepreneur Berndt August Hjort saw the untapped potential and secured worldwide sales- and marketing rights for JP's products with his B.A. Hjort & Company, but it would take another 64 years until the company got the name Bahco.
After being purchased by Sandvik AB in 1991 (the Swedish maker of kick ass steel), it was later sold to the US company Snap-on Incorporated which is the present parent company.
All in all, Bahco is known for producing great quality tools, and they've done so for almost 130 years.
Guarantee – 6
The Bahco Laplander has a limited manufacturers warranty from the parent company Snap-on, and exactly what that means is this:
Snap-on Industrial Brands warrants that BAHCO products shall be free from defects in workmanship and materials for the usable life of the product.
They don't state a warranty period for the Bahco Laplander, so this guarantee is kinda vague.
But if you find a defect in your Bahco Laplander saw then you should contact the store that you bought the saw from to get a refund or replacement.
Sustainability – 6
Saws have been used for thousands of years with copper saws documented back to the ancient Egypt. So saws as a tool category can be sustainable.
But the Bahco Laplander? Not so much. It's mainly the plastic composite handle and epoxy coating on the blade that brings this score down.
Sure the rubber gives a good grip and the epoxy coating does keep the rust away, but change that for a fine wood handle and an oil coating and it would be more in my taste and more in balance with nature.
One thing that does warrant a not too bad score though is that it's better to buy a folding saw that lasts than buying tons of crappy folding saws and throwing them away. And the Bahco Laplander will outlast most other folding saws.
Self-Reliance – 7
The situations where I'd prefer this saw over bigger and meaner tools is when I'm either out in the woods and want to build shelter or collect firewood, or when I'm in the garden and want to prune my fruit trees. For those tasks it's superior to both an axe and a knife in many ways, but mainly because it will save you time.
Now, almost anything you can accomplish with this saw you can also accomplish with a good axe and knife, but it adds some convenience to your self-reliance that should not be underestimated. It won't instantly turn you into a free man, but in certain situations it will make the journey quicker.
Value – 8
You can get the Bahco Laplander on Amazon for around $21 in the US and $31 in the UK. A replacement blade cost $12-20 in the US (Both Ben's Backwoods and The Bahco Store stock replacement blades) and $19 in the UK (check out the Ray Mears store), so they are quite expensive considering the price of a brand new saw. That is expected though because the blade is by far the most advanced and resource intensive part to manufacture.
So is this a good value?
For around the same price you can get two Chainmate survival pocket chain saws, and in the US you can add around ten bucks to get the 15 inch Sven Saw that should provide a more pleasant experience when cutting larger logs.
But considering the quality of the Bahco Laplander and the many years of use I see for my saw I'd say $21 or even $31 is a steal. If you're serious about actually using the saw, that is.
I picked up a replacement blade at the same time I purchased the saw which bumped up the price quite a bit, but now I can saw with confidence knowing that a fresh and sharp blade is waiting in case the first blade finally dulls or loses a couple teeths down the road.
Excitement – 8
The Laplander saw doesn't get me going as much as a traditional wooden folding buck saw, but I can't help feeling good inside whenever my hand closes around the handle and I hear that sweet sound of the saw making quick work of the wood.
That it's so light and compact means I also take it with me wherever I go, which gives me plenty of chances to show it off with pride to my friends (who are probably quite tired of that by now). I won't let them hold the saw though. It's mine! My precious.
Specifications
Length folded: 23 cm (9 inches)
Length unfolded: 40 cm (15.5 inches)
Blade length: 19 cm (7 inches)
Weight: 190 grams (6.67 ounce)
Steel: with black powder epoxy coating for rust prevention
NATO number: 5110-25-147-4344
Model number: 396-LAP
Origin: Sweden