The average temperature in Stockholm, Sweden, in January is -3°C (27°F). For Marie Granmar and Charles Sacilotto it can be much warmer thanks to the greenhouse that blankets their home.
I first heard about this greenhouse a couple of years ago and it really fascinated me. Now you can follow along in this video as Kirsten Dirksen gets a tour of the house.
"For example at the end of January it can be -2°C outside and it can be 15 to 20°C upstairs," explains Sacilotto. He was inspired to build a house-in-a-greenhouse through his relationship with architect Bengt Warne who began designing the first Naturhus (Nature House) in 1974*.
Made out of 4mm security glass, it's basically like any regular greenhouse – just big enough to cover the entire house. It cost €80,000 euros to build, but that was over 10 years ago so expect a bigger bill if you want to build a similar structure today.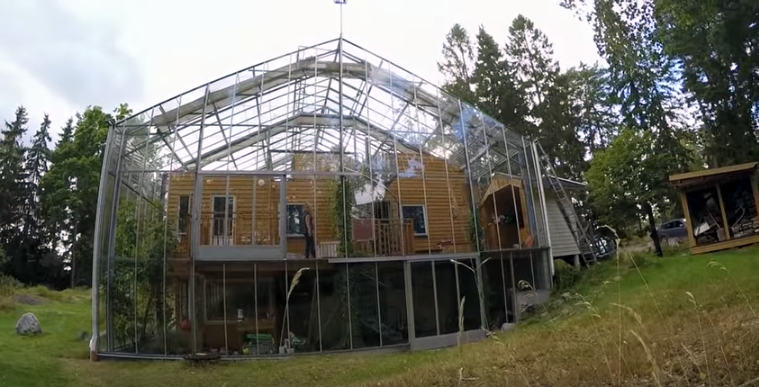 "The idea is to be self-sufficient" Marie says, i.e. be independent of external input. They collect rainwater, grow their own food, heat the home with wood in the winter, and have their own off-grid sewage system. It cost them a ton of money to get there, but as long as the greenhouse windows don't break they're fairly self-sufficient now.
Originally Sacilotto looked for an empty lot to build an entirely new Naturhus, but he eventually settled on an old summer house on the Stockholm archipelago. Using Warne's design, he covered the small summer house, plus an addition, in 4 millimeter glass.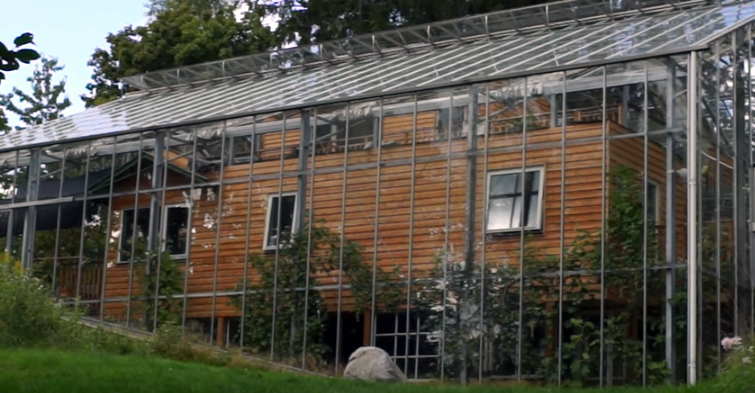 The footprint of the greenhouse is nearly double that of the home, leaving plenty of room for a wrap-around garden, and since inside the bubble it's a Mediterranean climate, the couple now grow produce atypical for Sweden (e.g. figs, tomatoes, cucumbers).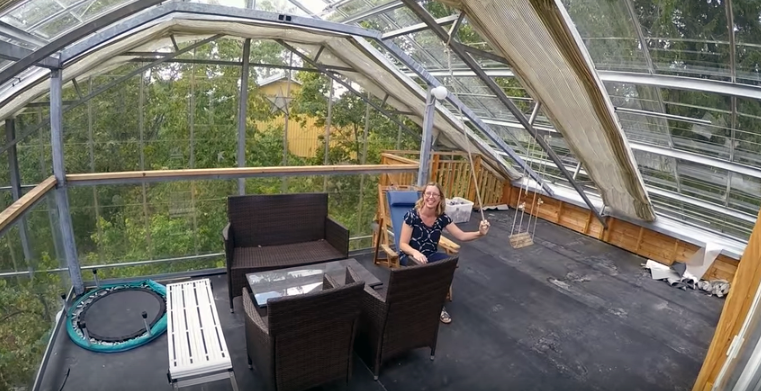 The favorite spot is the glass-covered roof deck. Since there's no longer need for a roof, the couple removed it and now have a large space for sunbathing, reading or playing with their son on swings and bikes.
The greenhouse isn't the only novel point to the Granmar-Sacilotto home. They are also completely independent from city sewage.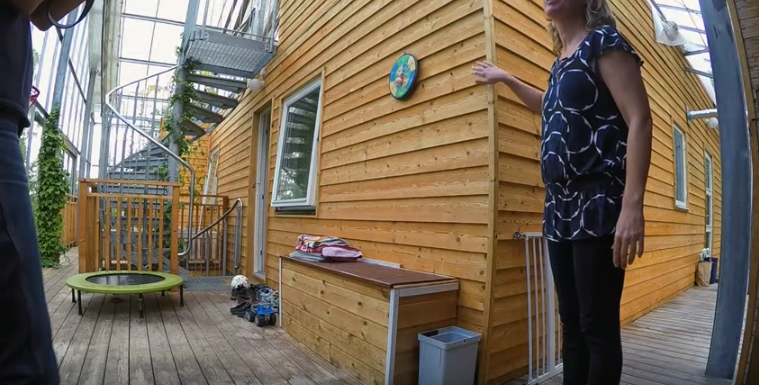 Built by Sacilotto, an engineer by training, the sewage system begins with a urine-separating toilet and uses centrifuges, cisterns, grow beds and garden ponds to filter the water and compost the remains.
In the video, Granmar mentions architect Bengt Warne's influence in the 1990s since this is the date he reached a larger audience with his book release.
Original story: Fair companies