Gone are the days of mobile phones going one week without needing a charge.
If you have a smart phone and use "modern" features such as the internet, watch video, listen to audio, etc., then you can get away with charging it once per day (if you're lucky).
This makes you highly dependent on a wall socket… Unless you have an external battery pack of course, for example the 2nd generation Astro3 by Anker that has a 12,000 mAh capacity and can make you independent of wall sockets for days.
Here's the full breakdown:
Performance – 8
When measuring the performance of external battery packs there are three things I find important, and those are compatibility, battery capacity, and charging speed.
Compatibility
If it doesn't work with your gadget, it's just an expensive paper weight.
Gladly I found that the Astro3 worked with everything I could throw at it. Google Nexus 5, Samsung Galaxy S3, Kindle Touch and Kindle Fire charged flawlessly.
Some external batteries have problems with compatibility because some standard ports only communicate effectively with certain devices, e.g. it can work well with Apple OR Android. Kindle OR iPad, or it won't work at all with certain devices.
The 2nd generation Astro3 does not have this problem thanks to the smart charging ports that has a neat feature called PowerIQ that identifies the optimal charging settings for your particular device so that the charging speed is maximized.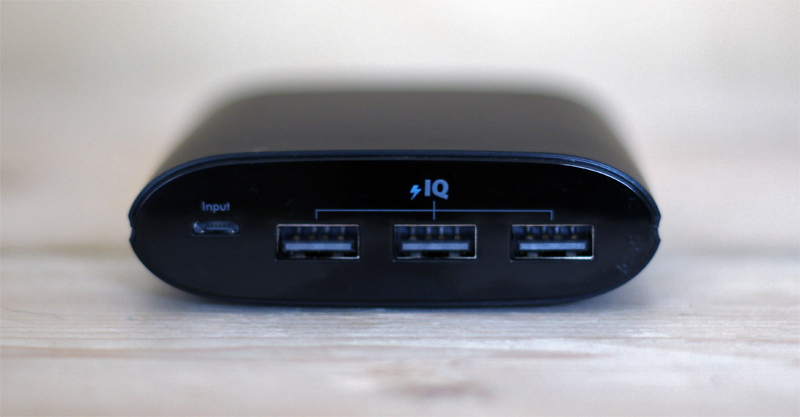 One input port and three "smart" output ports
Anker states that the Astro3 is compatible with all Apple and Android smartphones, tablets (including the Nexus 7) and other USB-charged devices, but the The iPod nano, iPod Classic, HP TouchPad, LG G2, Asus tablets and some GPS and Bluetooth devices are not supported.
As for charging the battery itself you can charge it from your computer, a USB wall charger, and to my positive surprise I could also charge it from my Goal Zero Nomad 7 solar panels. So if you have solar panels with a micro USB output there's a good chance you'll be able to charge this battery straight from the sun.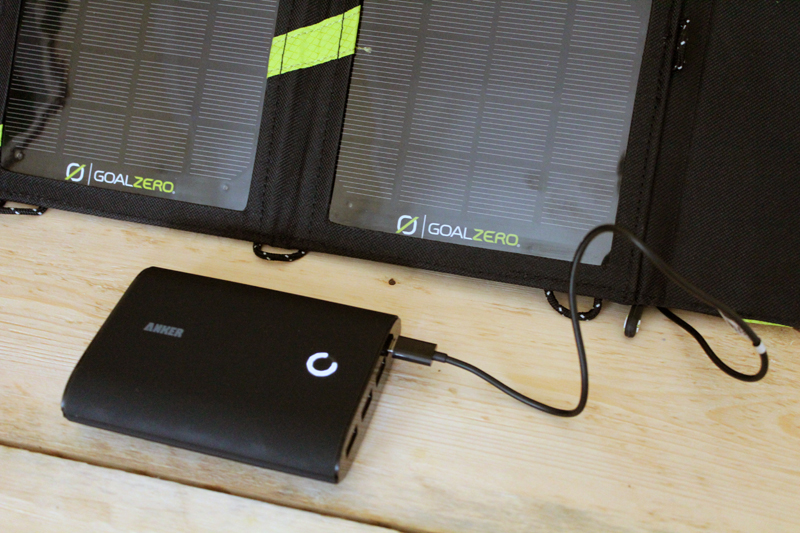 Charging the Astro3 with Goal Zero Nomad 7 solar panels
Capacity
I got this specific battery because of the 12,000 mAh capacity. This capacity allows me to keep the phone charged on multi-day hikes in the woods or on the 20+ plane trips that I take every now and then.
Especially while traveling by air it has always been a hassle to keep my phone charged the whole journey. I've either been forced to find a charging station at airports while in transit, or to conserve battery and use the phone only for critical tasks.
Neither of those alternatives are ideal, but gladly the Astro3 has set me free.
The Astro3 is said to have an energy efficiency rate 10% above previous generation Astros and many current standard alternatives, and various tests have shown that it has an efficiency rate of around 80%. This means that out of the capacity rating of 12,000 mAh you should be able to squeeze at least 9,600 mAh of usable power.
So where does the other 20% go? As with any external battery power is lost from circuit heat and voltage conversion within the external battery, as well as in the charging cable and the device that's being charged.
How does this ~80% energy efficiency rate translate into practical use? Here's how many full charges you should be able to get with commonly used devices:
Google Nexus 5 approximately 4.1 full charges
iPhone 4 or 5 approximately 6.7 full charges
iPad 2 approximately 1.4 full charges
iPad 3 or 4 approximately 0.8 full charges
Kindle Fire approximately 2.2 full charges
Kindle Paperwhite approximately 6.5 full charges
Galaxy S4 approximately 3.7 full charges
As you can see this battery won't take you a long way if you have an iPad 3 or 4, but using it to charge a smartphone is a game changer for me personally.
Charging Speed
You can charge the Astro3 from depleted to fully charged in about 8 hours (9 hours is Anker's own estimate), meaning you can charge it overnight and have it ready to go in the morning. Just make sure you get a good quality USB wall charger (not included) rated at 2A or more so you can charge the battery from a wall socket.
A lower Amp rating will significantly slow the charging speed, for example with a 1A charger the charging time will essentially double to something like 15 hours.
As for charging gadgets I'm very satisfied with the charging speed. What's more, you can charge up to three gadgets at the same time with the Astro3 because of the three USB charging ports (you'd need to provide your own extra cables though for port 2 and 3).
With the PowerIQ smart port technology the ports can provide a charge of up to 4 amps overall or 4 amps per port for maximum speed across your devices. The 1st generation of this battery had one smart port and two regular ports, but on the 2nd generation batteries all three charging ports have the PowerIQ technology.
The only drawback in terms of charging is that you can't use the Astro3 as a passthrough, i.e. you can't charge your gadgets while charging the battery itself. Not a major issue for me, but it might be for some.
Construction Quality – 8
First things first, Anker uses premium Samsung batteries internally which should say something about the quality.
As for the rest, my first impression was that it was a solid quality build. After owning and using it for a few months that impression remains.
There are 3 USB sockets, all of which have the "intelligent" charging, but what I first noticed when picking it up was the weight.
At 299 grams (10.5 ounces) it's quite heavy, in fact the heaviest external battery pack I've tried. But at a 12,000 mAh capacity a higher weight is to be expected.
The Astro3 has a sleek rounded design with a non-slip rubber finish that's easy to grip. Plus it hides most fingerprints, so if you've got compulsive behaviour like me you won't constantly have to polish it to keep it looking good!
It has 10 LED lights in a circle that shows the battery charge.
The package contains the Anker 2nd generation Astro 3, a dual purpose USB / Micro USB 3.0 cable, a travel pouch (fits the Astro3 + USB cable), instructions and an 18 month warranty. Apple and Samsung 30-pin adapters are not included.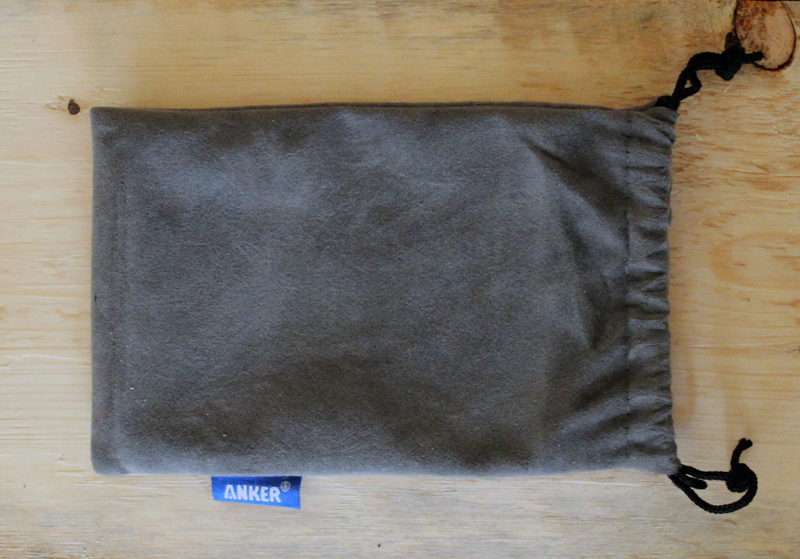 Handy draw pouch that fits both the Astro3 and the USB cable
The cable is short. On one hand that's good because it fits easily into the travel pouch plus a shorter cable means quicker charging speeds. But on the other hand it limits you when you want to charge something and don't want it right next to the battery.
If you want to charge two things from the battery at the same time you need supplementary cables, and Anker recommends that you use the included cable, your device's original cable or a third-party certified one (such as MFi).
If you need to buy cables then you might want to consider buying the best charging USB cables you can find, preferably "charge only" cables. There can be a big difference in charging speed depending on the quality of your cables.
Overall it looks and feels like a solid build.
Ease of Use – 9
As you pick up the Astro3 you'll notice that there are no buttons to push. No on or off button, nothing. You may notice the white LED ring glow though, which shows the charge status at 10% increments.
To charge, just plug in your device and the Astro3 will start charging automatically. As you charge your device you'll notice the LED ring fade in and out, showing the charge level of the battery.
There is no ON button so when you plug in a device just shake the battery and that begins the charging process of your device. It is recommended that you unplug your device when it is fully charged.
My Astro3 arrived about 80% charged so I could use it out of the box. I plugged it into my phone USB wall charger and it did not take long to get it to fully charged.
There is no charger included, so you'll have to provide your own USB wall charger. And I recommend that you do, because charging from your computers USB port takes much longer than with a dedicated USB wall charger rated at 2A or more.
Charging your gadgets does not get easier than this though. Just plug it in and you're good to go.
Maintenance – 6
Naturally there's a bit of maintenance work with using an external battery. You need to charge it, recharge it, and maintenance charge it.
If you're a heavy user you'll likely charge it every night as it takes 8-9 hours to fully charge it.
To extend the battery life it's recommended that you:
1. Charge and recharge it at least once every 3-4 months.
2. Do not over-charge or over-discharge it. It is best to keep it charged between 5%-95%.
The battery pack can be recharged 500+ times, so if you'd fully discharge and charge the battery every day it would last you at least 1.37 years. But if you just discharge it to 50% and then charge it that counts as 0.5 charge, so your battery should last you well beyond 1.37 years.
Brand Reputation – 8
Anker was founded in 2009 by a couple of ex-Googlers with the goal of "starting with affordable, high-quality gear and ending with 100% user satisfaction". Now, 5 years later, it looks like they're doing a good job at it.
Their main product ranges are batteries and chargers, USB hubs, cases and protectors, and keyboards and mice.
They've been voted #1 External Battery Pack on Lifehacker.com, they've got thousands of favorable reviews on Amazon, and they're known for their responsive and helpful customer service.
Their products are among the most popular battery packs on Amazon, selling more batteries than other brands such as Poweradd, ZiLu, and EasyAcc combined.
Sustainability – 4
Sustainability is a tricky subject when it comes to electronic gadgets and batteries. Electronic waste is one of the biggest issues of our time and it usually ends up in a landfill in some third world country.
Now, the Astro3 is manufactured in China but what speaks in its favor in terms of sustainability is that this is no Chinese "crap" that you'll throw away a few months after you buy it.
It's a quality piece of gear that you'll hold dear for a long time, and when it does eventually wear out you can do your part by leaving it at a recycling center.
Self-Reliance – 7
Will the Astro3 make you more independent? Yes and no.
It will free you from the power grid for short periods of time, enabling you to roam the world without planning your trips after the locations of wall sockets.
And coupled with solar panels (like the kit we're giving away here) you could potentially free yourself from the grid for weeks at a time as long as you have sunny weather. Higher powered solar panels will help in that effort though.
But if you depend on external batteries then the root cause of that dependence is that you're dependent on your gadgets. And while you'll free yourself from the power grid with the Astro3 the dependence on gadgets will remain. But that kind of simple living goes beyond the scope of this review.
Overall, a high capacity external battery such as the Astro3 is empowering to have in my backpack and I wouldn't want to leave home without it.
Value – 5
I bought my Astro3 on Amazon.co.uk for £35.99 (~$60 USD), which is quite a lot more than you pay in the US (it's $45.99 on Amazon).
For me the Astro3 is good value even though I paid $60 for it, because the availability of external battery packs is very limited in Sweden so ordering from the UK was the cheapest and the best alternative.
However, if you're in the US there are two other Anker batteries that might be better bang for your buck. The Astro E5 has a 15,000 mAh capacity and cost you $39.99, and the Astro E4 has a 13,000 mAh capacity yet only cost $29.99. Both are part of Astro's "Economy" range, so they might not have the full charging power of the Astro3 but they do provide more capacity per dollar.
Of the Astro3, Astro E4 and Astro E5 the E5 is the most popular one, but it's only $6 away from the higher end Astro3 so I'd rather get the Astro E4 if I wanted a large capacity external battery with the most bang for my buck.
Guarantee – 9
The warranty is 18 months, and Anker seem to be very responsive to people who have received defective devices and have promptly shipped replacement devices.
Excitement – 6
Freeing myself from the power grid, if only for a few days, is an empowering feeling and the Astro3 is what makes it possible for me. It has good compatibility, good capacity and good charging times and that's all I can ask for. Plus it looks good and is well built. So I like it, even though it's "just" a battery.
Specifications
Capacity: 12000mAh
Output: 5V / 4A (total)
Input: 5V / 2A
Weight: 300g / 11oz
Dimensions: 111 x 83 x 26mm / 4.4 x 3.3 x 1.0in
Manufacturer reference: Astro3 (2gen)
Model: 79AN7904
Color: Black
Number Of Lithium Ion Cells: 1