The Zebra Loop Handle Pot, or "Billy Can", is a stainless steel cooking pot made by Zebra Thailand and loved by bushcrafters and outdoorsmen around the world. This is what renowned outdoorsman Ray Mears and the Woodlore team has to say about it:
"If you're going to buy just one piece of equipment for cooking in the outdoors, we believe that the Zebra Billy Can should be your first choice."
So don't let the "Made in Thailand" fool you. This is a high quality piece of gear.
Here's the breakdown:
Performance – 8

This billy can, the 12 cm model, is said to be the perfect size for solo campers and backpackers. After putting that claim to the test I agree. It's bigger than I thought it would be, and more than enough size for one or even two people.
It has the typical pot shape with no advanced or "cool" bells and whistles that you might see on other modern outdoor cookware. It looks like a pot and works like a pot, simple. This makes it ideal for boiling water, cooking soups (and stews!), melting snow, etc.
I also like the removable pan insert that nests snugly over the pot. You can use it separately as a plate or frying pan, or even use it inserted into the pot to steam vegetables or heat a second dish while boiling water inside the pot (with the lid on).
The 12 cm model works well when used with most outdoor kitchens and indoor kitchen stoves. The 12 cm (4.7″) diameter might make it too small for some outdoor kitchen stoves, so keep that in mind.
Construction Quality – 9


I noticed the second I picked it up from the box that this was a high quality piece of gear. All the components (pot, lid, pan insert and handle) are built from high quality 18-10 marine grade stainless steel so it can take a real beating without breaking.
Early Zebra pots came with plastic lid clips that would hold the lid down when the pot was not in use. But the problem was that these clips would melt when exposed to fire, so they've now been phased out completely so new pots come without these clips.
As a seal of approval each component is stamped with Zebra Thailand's logo: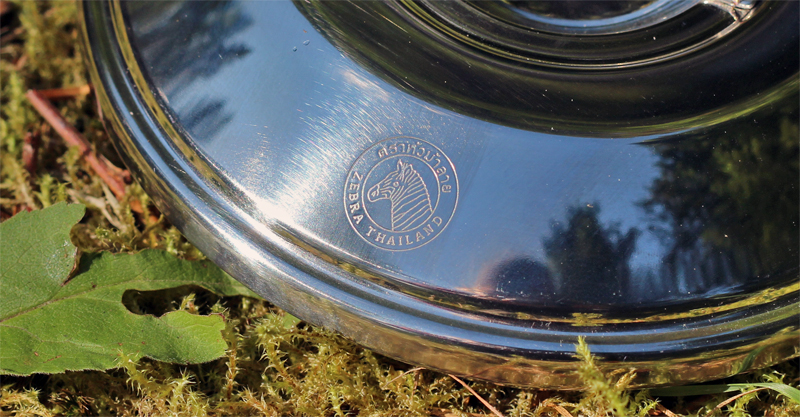 You can certainly find lighter cooking pots out there geared towards the "ultra lightweight" backpackers, but lighter is not always better. The Zebra 12cm pot weighs 550 grams, but it will last you a lifetime.
Ease of Use – 9
Aside from the rock solid construction I think the ease of use is the second most reason why people like the Zebra pots. They're dead simple to use in the outdoors because the handle has a notch in the middle which makes it easy to hang the pot on a branch (or a tripod) over the campfire.
You can use any kind of fuel source with the Zebra pots, e.g. wood, gas, alcohol, electric stove, etc., which makes it versatile and suitable for a range of outdoor and indoor conditions.
The Zebra billy can is like any other cooking pot, just better.
Maintenance – 8
There's no maintenance to speak of. It's stainless steel so you won't have to worry about rust. You might want to wipe it off every now and then, but still count on it getting dirty. If you use it above the camp fire it won't stay shiny and new, but who would want their cooking pot to stay shiny and new forever anyway?
Brand Reputation – 8
Zebra Thailand, a part of the Satien Stainless Steel Public Company Limited, has been making quality stainless steel cookware since 1966 when its founder, Mr. Satien Youngvanich, started making stainless steel spoons.
Zebra was the first company to start producing stainless steel kitchenware in Thailand, and today they've got over 1000 employees and have won numerous awards.
Their factory is "one of the most advanced high-tech factories in Asia", and they back up that claim with a certification for an international standard of quality, ISO 9001:2008 by Tüv Rheinland, Germany and Environmental Management System ISO14001:2004, by Tüv Süddeutshland Group, Germany.
But above all, Zebra cookware (and this billy can in particular) is held in high regard with prominent outdoorsmen, for example world renowned bushcrafter Ray Mears and his Woodlore team who have used and abused Zebra billy cans for over a decade now in extreme conditions. That says a lot about the quality.
Guarantee – 7
The manufacturer (Zebra Thailand) does not offer a warranty on their products which I find disappointing and a bit strange considering the high quality. But from talking to the Woodlore team at Ray Mears I learned that the EU distributor offer a promise to replace any defective pot up to 1 year old, and Woodlore would also honor this promise when purchased through them.
I reached out to Ben's Backwoods as well, one of the few US retailers that carries the Zebra billy pots, and he gladly extended the same 1 year guarantee when you purchase through his store.
Sustainability – 7
This is a no frills pot. No plastic parts, silicone grips or teflon coatings. Just bare steel. This fact alone makes it a better choice in my opinion than any of the "high tech" pots and pans out there. Sustainability has a lot to do with durability, and the Zebra pots are durable.
Self-Reliance – 9
You need water and food to survive, and you need something to boil and heat it in. The Zebra billy can is an excellent choice for that, and I'm convinced that mine will give me a lifetime of use.
Value – 8
I ordered my 12 cm Zebra billy can from Ray Mears online shop in the UK and paid £12 (~$20). In the US very few companies stock these billy cans, but one company that does is Ben's Backwoods and they charge $24.98 for the 12 cm version (note: they sell the 14 cm version for the same price). That's still a good deal.
So for $20-25 plus shipping you'll get a cooking pot that will likely last you a lifetime of use and abuse.
One of the few other comparable pots out there is the stainless steel Kettle No. 1 by Snow Peak, a pot that's also held in high regard by its users. It's cheaper than the Zebra pot in the US at $19.95, lighter (250 grams) and has a few more features that some people appreciate, but it's also smaller with only a 0.9 L (30.4 oz) capacity.
Overall, excellent value.
Excitement – 7
Can you be excited over a cooking pot?
Turns out that yes, you can.
I like quality gear that's built to last, and the Zebra loop handle pot is one such piece of gear.
It's not only useful out in the woods, but now it's also my go-to pan during power outages when we need to boil water or cook something.
I'm going to invest in the 14 cm and 16 cm pots as well so I can cook for larger groups. That's how much I like it. And I'm sure my grandchildren will like it as well when I pass these pots down to them.
Specifications
Zebra 12 cm Pot
Capacity: 1.5 L (44 oz)
Diameter: 12 cm (4.7″)
Insert Height: 3.18 cm (1.25″)
Total Height (with lid): 14 cm (5.5″)
Weight: 550 g (1 lb 3 oz.)
Material: 18-10 Marine Grade Stainless Steel
Origin: Thailand
Price: $24.98 (USD)
Zebra 14 cm Pot
Capacity: 2.5 L (64 oz)
Diameter: 14 cm (5.5″)
Insert Height: 3.8 cm (1 .5″)
Total Height (with lid): 15.87 cm (6.25″)
Weight: 730 g (1 lb 9 oz.)
Material: 18-10 Marine Grade Stainless Steel
Origin: Thailand
Price: $24.98 (USD)
Zebra 16cm Pot
Capacity: 3.5 L (100 oz)
Diameter: 16 cm (6.3″)
Insert Height: 3.8 cm (1 .5″)
Total Height (with lid): 18.4 cm (7.25″)
Weight: 925 g (2.00 lbs)
Material: 18-10 Marine Grade Stainless Steel
Origin: Thailand
Price: $26.98