This Morakniv is a spoon carving knife. Why carve spoons? There are as many reasons as there are spoon carvers, but for me it's because it gives me peace.
In this materialistic consumption culture we all live in where you can buy stainless steel spoons for less than 50 cents just to throw them away next time you move, I find that there's something rebellious and almost romantic about spending three hours on carving a wooden spoon for yourself or your loved one.
Spoon carving might not be for everyone, but I find it enjoyable and can spend an hour carving away on a piece of wood with the time just flying past me.
But back to the knife… The Erik Frost 162 Hook Knife comes from a well respected range of knives from Mora in Sweden, and it's a double-edged woodcarving knife.
I've spent many hours with this knife, and here are my thoughts:
Performance – 7
The blade comes sharp and ready to use, although it's not razor sharp on arrival, and that seem to be the case for many other buyers as well. I found that it was sharp enough to carve a spoon with ease, but expect to sharpen it relatively soon.
The 15 mm internal diameter is good for carving larger spoons and bowls, but for carving smaller spoons such as tea spoons or baby spoons it's not ideal.
Overall it performs just as I expect a spoon knife to perform.
Construction Quality – 6
This knife has a very simple appeal to it with the plain birchwood handle and the carbon steel blade. The handle is thicker in the middle which gives a good grip, and it's also oiled for longevity.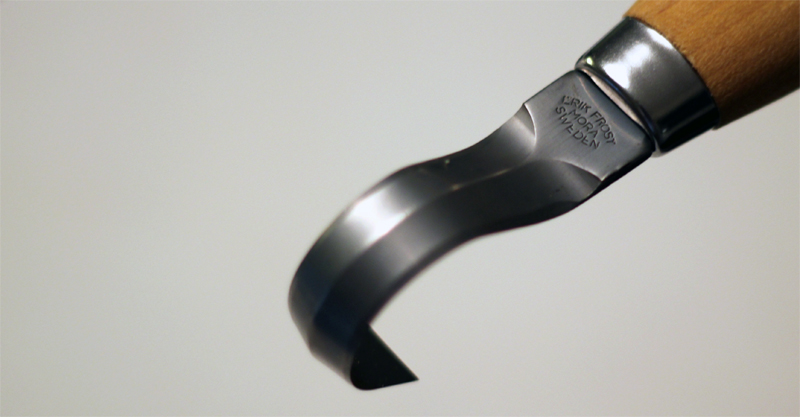 The curved blade is made of carbon steel.
I get a feeling thought that it's not the same high quality carbon steel that you'll find in their other knives, because I've heard of a couple accounts from other buyers that this hook knife is prone to developing rust spots, both on the blade itself as well as on the metal that's on the handle.
You can prevent that easily by giving the blade a light oil rub before you put it away, but it still says something about the quality of the steel.
Ease of Use – 7
It took a while for me to get the hang of it, but when I did this hook knife was almost as easy to use as any other knife. Notice I said almost. To use a hook knife effectively you have to know how to use your body strength the right way.
I mainly use two grips with this knife, as seen in the photo below.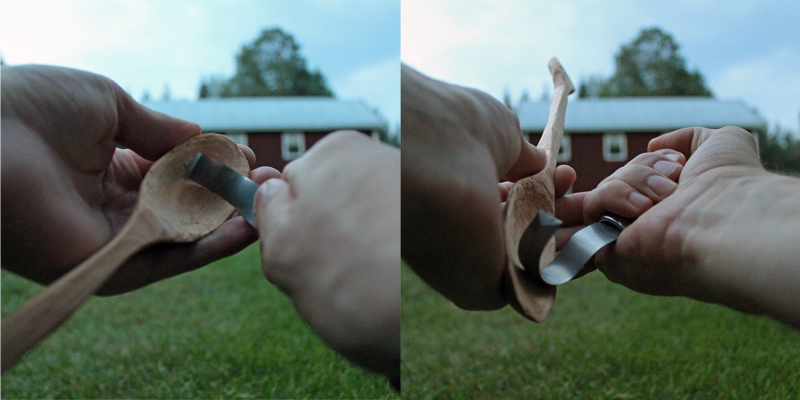 When using the grip to the left you draw the blade towards you, either by moving your wrist or by moving your whole arm. You get more power when using your whole arm. When using the grip to the right you push the blade away from you.
By using these two grips you put both of the edges to good use, and the grips do complement each other. They're all I've needed to carve several decent spoons.
The only drawback with the double-edged blade is that you can't apply force to the blade itself without hurting yourself. With a single-edged blade you can apply force with your fingers on the back of the blade, which gives very good control and more power.
You could solve this issue by getting something like these cut resistant gloves or this cowhide leather finger guard, but that's not ideal.
Maintenance – 4
This is the one tricky part with spoon knives. How to sharpen them?
It's not as straight forward as with a straight knife but it's possible, and once you have the right tools it's just as easy.
Most people I've seen use home made tools made of sticks that they wrap sand paper around with grits ranging from 400 to 1000, and then leather strops to polish the edge and get it razor sharp. You use a round stick with sand paper for the inside and a flat piece of wood with sand paper on the outside.
There are many Youtube-videos showing you how to do this, for example here.
The only other maintenance steps I'd recommend is that you give the blade a light oil wipe after use before you put it away. This will keep the blade in pristine condition and prevent rusting.
And the handle you could also give a rub of linseed oil once a year or so (depending on how much you use it).
Brand Reputation – 10
Chances are you've heard of or seen Moraknives before, the iconic knife with the red birch handle (although nowadays the handles come in a multitude of colors and materials).
The knives have their roots in the swedish town of Mora, where the original founder of what is now Mora of Sweden AB, Frost-Erik Eriksson, came in 1891 after having spent four years as a logger in North America.
Frost-Erik founded Frosts knife factory in 1891 and have manufactured high quality knives ever since under the Erik Frost brand.
In 2005 the company was bought by another Mora knife company, KJ Eriksson AB, and at the same time they changed the company name to Mora of Sweden.
The knives are a favorite among carpenters, wood carvers, bushcrafters, hunters, fishermen, outdoorsmen, and even the military because of the high quality yet inexpensive knives. Their Mora 2000 knife is a very popular allround knife, but they still make their old classics as well as knives for more custom applications.
I'll admit I have a soft spot for Mora knives, having owned various Mora knives since I was a young boy, and my Mora 2000 has been with me for over a decade now and is still going strong. So I'm very familiar with their high quality.
Guarantee – 5
Mora of Sweden offers a 1-year manufacturer's warranty, but this knife should last many years when cared for properly. It's good to know that you're guaranteed a fully functioning knife, although the warranty feels pretty standard in this price range.
Sustainability – 8
Throughout human history we've used a multitude of tools to aid us in eating our food. Seashells, animal horns, bones, bronze, wood, etc. In fact it was not too long ago in Sweden where you ate solely from wooden bowls with wooden spoons that you had made yourself and it had been that way up until just the past century.
So yes, the production of wooden spoons has been and will likely continue to be sustainable going into the future. As for the production of the knife itself the simple design of the Erik Frost 162 knife, with the plain birchwood handle and the carbon steel blade, also tells me that the production process is not overly complicated either.
Self-Reliance – 5
Yes, with this knife you can make all of your spoons yourself, if you want to. You'd be able to provide 100% of your spoon needs!
Now, there might come a time towards the end of the world where cheap stainless steel spoons are a thing of the past, but I don't expect that to happen anytime soon, if ever.
So while it feels cool to have carved my own spoon, it does not necessarily make sense in terms of self-reliance for everyone to spend hours on carving their own wooden spoon when they can buy a stainless steel spoon for a dollar that will last them a lifetime and beyond. But I guess you can say that about pretty much anything.
Rationally, it makes more sense to spend your free time on increasing your food or energy production rather than carving spoons. Emotionally though the decision might not be as clear-cut.
Value – 6
The Erik Frost 162 Hook Knife can be found on Amazon for $24.51, and at that price for the knife it's clear that your wooden spoons won't be the cheapest spoons around. So don't expect to save money when you start carving your own spoons.
Your first wooden spoon will have cost you maybe $50 just for the knives (a Morakniv Wood Carving Knife 120 will come in handy), and then add a few hours of labor on top of that.
As for the knife itself, it is more expensive than "normal" mora knives because it's a speciality knife and has a curved blade. For example their bestseller knife, the Morakniv Companion, cost $13.65.
Bottom line: For me the decision to buy this knife was emotional rather than rational. I wanted to carve my own spoon regardless of if it cost me twenty bucks for just the knife. But it was totally worth the satisfaction when I was done.
Excitement – 7
There's something special about infusing your own life into the making of an object, something which makes the things feel alive. That's one reason for why self-reliance and self-sufficiency speaks to me, and why I like the Erik Frost 162 spoon carving knife.
When I carve the time stops and an hour passes in an instant, and when I've finished a spoon I'm more protective of it than any expensive and mass produced gadget. I expect to carve many more spoons before I die.
Specifications
Length (total): 16.5 cm (6.5 inches)
Length (blade): 55 mm (2.1 inches)
Blade thickness: 2.5 mm (0.1 inches)
Internal blade radius: 15 mm (0.59 inches)
Handle: Birchwood
Hooked Blade: Carbon Steel
Weight: 69 grams (2.43 ounces)