Smith's PP1 Pocket Pal is a multi-functional knife sharpener in a very compact format. It measures just 3.5 inches (6.3 cm) long and 1 inch (2.5 cm) wide and weighs just 1 ounce.
It's the #1 best-selling sharpening stone on Amazon and is touted as ideal for backpackers, hikers, hunters, and fishermen "who want to ensure their blades have the sharpest edge wherever they roam."
It features three sharpening options:
A tapered round diamond-coated rod for sharpening serrated edges (also works for standard edges and crooked blades)
pre-set carbide blades for quickly restoring a dull edge
ceramic stones for the razor-sharp finish
Now, I'm a hiker and woodsman so I fit their description. Question is if the Pocket Pal fits my sharpening needs? I've put it to the test and have got the answer.
Performance – 8
I've sharpened everything from hunting and fishing knives to kitchen knives and even axes with the PP1 Pocket Pal and overall it does a good job at providing a sharp edge, even on very dull knives.
Usually you start out with the carbide blades and then continue with the ceramic stones, but if the edge already is fairly sharp then you can go straight to the ceramic stones.
Carbide Blades
The course carbide blades gave a good edge to dull knives very quickly. I found an old and rusty knife stuck to a wall in the barn and sure enough, the carbide blades put a decent edge on the knife one again (although I'll be honest, it took more than a few strokes).
I found that the carbide blades have insufficient "bite" for knives with moderate to severe nicks and damages to the edge. I won't say it's not possible, but it's certainly not practical because it will take a lot of time and effort to take those nicks out.
Ceramic Stones
The ceramic stones are good for giving that final touch to an already sharp edge. The stones are fine (800 Grit) and gives a smooth, polished edge (some would say razor-sharp).
This is what I used to maintain my knives on a daily basis while out in the field. A couple strokes through the ceramic stones before every use ensures I have a sharp knife at all times.
Tapered Round Rod
The fold-out tapered diamond rod has a medium (400 Grit) surface and it's used for sharpening serrated and standard edges, but what I like most about it is that I finally have a way of sharpening my crooked Mora spoon knife. Finally!
Construction Quality – 7
The PP1 Pocket Pal weights only one ounce which makes it feel a bit "flimsy". But it's made from durable plastic and easily withstood a drop from 2 meters onto a hard surface without as much as a scratch.
The replaceable carbide blades and ceramic stones are held in place by a slide-out tray that's fastened with a metal screw, and the tapered diamond rod is fastened with what looks like a plastic hinge (which I'd say is the weakest point on the Pocket Pal)
Considering that the Pocket Pal costs less than ten bucks this is pretty good quality for the money. The sharpening components are rock solid, so the fact that they come in a plastic yet durable case does not bother me at this price level.
Ease of use – 8
As for the two sharpening slots there's not much to say there. Position the Pocket Pal on a flat surface, hold it with a firm grip and pull the knife through the slot of your choosing while applying light pressure. Repeat until the blade is sharp.
As for the tapered diamond rod, Smith's recommend that you always hold the unit with the rod facing down and then place the heel of the blade on the diamond rod closest to the unit.
The next step is a bit trickier. The instructions say you should hold the blade at a 23-degree angle to the rod, and while applying light pressure you should push the knife away from you towards the end of the rod.
Draw the knife down so that the tip of the blade comes off the end of the rod. Repeat until blade is sharp, and then do the other side of the blade.
For serrated edges you should only sharpen the knife edge with the serrations, and you do that by holding the rod at a 23-degree angle to the blade and moving it back and forth through each serration until sharp.
Overall, you quickly get a hang of how to handle the Pocket Pal and when you do it's easy to keep a sharp edge at all times.
Maintenance – 4
The only maintenance you have to keep in mind is to clean your sharpener with a damp cloth after use and towel dry. Smith's specifically advises you to NOT rinse with water.
A neat thing about the PP1 Pocket Pal is that both the carbide blades and ceramic stones are reversible and replaceable for extended sharpening life.
As you can see in my photo below you can easily de-assemble and replace the sharpening components.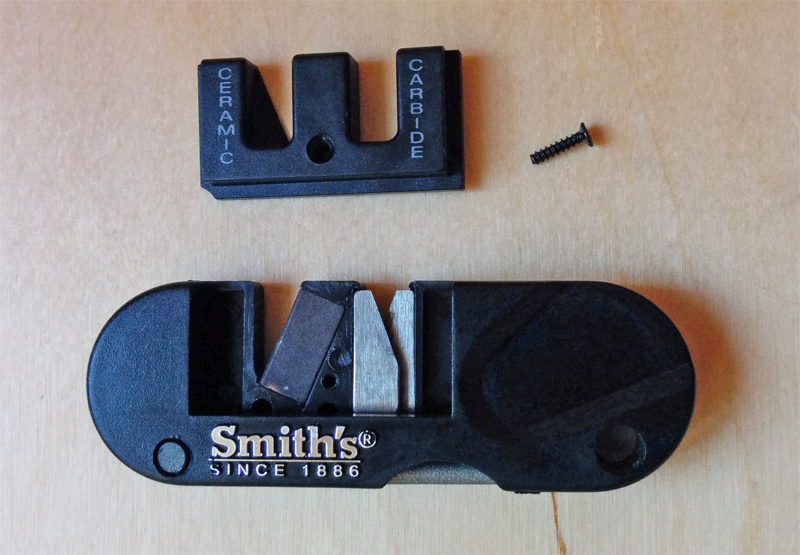 However, the Carbide replacement (Sku# JVSRB) and the Ceramic replacement (Sku# 50038) are both $3.75 and with the price of a brand new PP1 Pocket Pal on Amazon being $7.99 it does not make much economic sense in buying these replacement items. If you want to replace both the carbide and ceramic sharpeners then you only save 49 cents compared to buying a brand new Pocket Pal.
The Carbide blades will likely be the first ones to need replacement though, so it could make sense to just replace those if needed.
Still, here's a message to Smith's: If you're going to offer replacement blades and ceramic stones then at least set the prices so it makes financial sense to buy them. Anything else is an insult to your users intelligence, mine included.
Brand Reputation – 9
Smith's was founded in Hot Springs, Arkansas in 1886 by James Archer Smith, Great-Grandfather of current president Richard Smith. There's something with family companies that I really like, and Smith's is no exception.
The company started out as a small Arkansas stone company that began mining raw Novaculite which is used for sharpening tools.
Fun fact: The word novaculite is derived from the Latin word novacula, for razor stone. And Hot Springs, Arkansas happens to be the only place in the world where they mine this very hard and dense rock.
Smith's started out selling the raw stone to overseas processors in Germany and Japan, until Hiram A. Smith, 3rd generation Smith and father of the current President, took the company one step further and started cutting and finishing the stones in his garage in the early 1960s (around the time when Richard Smith started working in the family business).
Today Smith's sell more sharpening products than anyone in the world and they are selling in 41 countries. In the US you'll find them at Wal-Mart, Lowe's, Gander Mountain, Amazon.com, Lowe's, Dick's Sporting Goods and Williams Sonoma, just to name a few.
They are still selling the Arkansas sharpening stones that made them famous but since the beginning they've also gone to become a market leader in the knife and scissor sharpening category with a whole range of sharpening tools from all major sharpening categories:
Natural Arkansas Stones
Carbides
Ceramics
Diamonds
Synthetics
Precision Sharpening Systems
Electrics
Their reputation is solid as far as I'm concerned.
Guarantee – 8
Smith's offer a three year limited warranty on all of their manual sharpeners, including the PP1 Pocket Pal, meaning they will "repair or replace, at our option, any product or part that is defective in material or workmanship without charge."
These days if you get more than a one year warranty on any product you should be happy. And I'm happy with a three year guarantee.
Sustainability – 6
There's nothing sustainable about the PP1 Pocket Pal. It's made of plastic, with artificial ceramic stones, carbide blades and a diamond-coated rod.
If you want something relatively sustainable then buy what made Smith's great, a real Arkansas sharpening stone created by Mother Nature and refined by Smith's.
However, I think even the PP1 Pocket Pal can have a net-positive effect on sustainability because it can keep your knives and scissors sharp and in use instead of ending up in the dump. It takes some energy to produce a PP1 Pocket Pal, but it takes even more energy to produce ten knives that you then throw away when they get dull.
So it's not all bad here.
Self-Reliance – 7
Yes, you need something to sharpen your tools if you want to have any shot at real self-reliance. Tools are what took man to the top of the food chain, and throughout history it's been the men with the best tools that have usually been the winners.
So if you want to be a winner then make sure you have good tools and that you have the tools to take care of your tools. The PP1 Pocket Pal is one of those tools.
Value – 8
The Smith's PP1 Pocket Pal is only $7.99 on Amazon, which to me is a no-brainer. Being able to always keep my knives sharp is easily worth eight bucks. If you've ever tried to chop tomatoes with a dull knife I'm sure you'll agree with me.
Of course, there are more expensive sharpening solutions and complete systems out there that certainly do a better and finer sharpening job than the PP1 Pocket Pal, and by all means invest in a more extensive sharpening solution if you have a lot of knives and tools you want to keep sharp for the long term.
But if you're just getting started then you get a lot of bang for the buck with the PP1 Pocket Pal. I've tried other sub-$10 sharpeners, including some other Smith's products, but out of those this one is my favorite.
The expensive replacement carbide blades and ceramic stones does bring the value down as a long term sharpening solution though, but not much.
Excitement – 7
Give a man a good knife and a good sharpener and he can accomplish pretty spectacular things out in the woods if he knows what he's doing.
As with anything else, a tool is only good if you actually have it with you, and I find myself carrying around the PP1 Pocket Pal wherever I go. I've got bigger sharpening tools in the workshop, but the Pocket Pal is the sharpener that provides the touch ups as I'm out and about.
I also think my woman does love me a bit more after I sharpened all the kitchen knives, despite waking her up in the early morning while doing so. It's a breeze to cut tomatoes, and that's almost enough to get me excited.
Specifications
Weight: 1 ounce (28 grams)
Length: 3.5 inches (8.2 cm)
Width: 1 inch (2.8 cm)
Item model number: PP1
Tapered Diamond Rod: MEDIUM (400 Grit)
Carbide Pull-Through slot: COARSE
Ceramic Pull-Through slot: FINE (800 Grit)