When you are new to self-reliance, it's easy to get overwhelmed. I wish I could tell you the "lost" feeling changes over time, but it doesn't.
The truth is; while you expand your knowledge of taking care of yourself, your interests in new subjects and skills can spiral out of control.
That's the thing with depending on yourself, it's hard to just specialize on doing just one thing. Sure you can become a master of growing potatoes, but potatoes won't keep you warm through the winter or quench your thirst.
And, when you think you have figured something out, you may realize that you have solved only a small piece of the puzzle.
Therefore, after carrying around this self-reliance puzzle in my head for years, I'm pleased to offer a very rough 1.0 version of The Self-Reliance Matrix.
Why now?
Because we've hit a tipping point, and I know that more and more people are starting to ask questions and find alternatives to Big Agriculture, Big Government and Big Banking. Well, here are some answers:
Free Download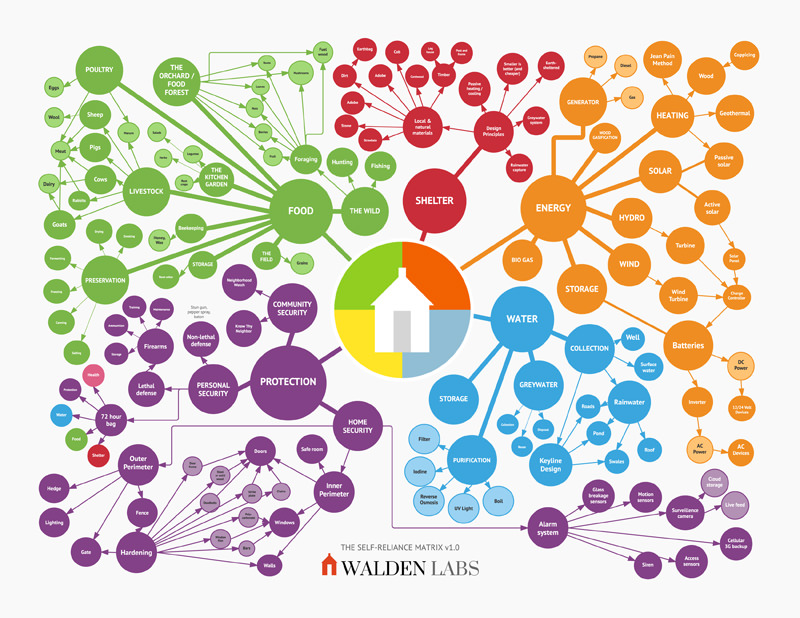 Click the image above to download the high-resolution PDF
The Self-Reliance Matrix helps you visualize all the various pieces of the self-reliance puzzle, and how they fit together. When I first started out on my self-reliance journey, I looked for a self-reliance road map, but was unable to find one. So here's my try at creating one, or at least the start of something.
I've just spent 8 hours straight putting together this first version of The Self-Reliance Matrix for you. It's certainly not all encompassing (yet), but v1.0 of anything seldom is. It's more important to get it out there so people can use it (or decide it's useless!). Ship early and ship often is a motto I've taken to heart. I'd love to hear your thoughts and feedback in the comments below.
Now, The Self-Reliance Matrix shows you the "what" of self-reliance. What about the "how"?
For that, we've launched a new online training platform called Self-Reliance 365 that will help you, step-by-step, do the "how" of self-reliance.
But let me be clear, Self-Reliance 365 is not about learning, it's about doing.
Members get access to our Execution Plans (like checklists on steroids) and exclusive discounts and deals on self-reliance tools and services.
Not only that, since the launch we've also built out the Self-Reliance Calendar where you'll learn about the "to-do" items that your great-great grandparents might have done throughout the year to survive and thrive.
In the members are you'll also find exclusive deals and discounts that we've negotiated for members on popular products and tools for living the self-reliant life.
I've put a full writeup on Self-Reliance 365 that you can go and read now, right here.