I haven't talked about 3D printing in a little while for a couple of reasons. First, there hasn't been a whole of new innovation in the last few months and more importantly, some of you made a valid point about the feasibility of large, expensive 3D printers in homes across America.
As cool as the technology is, most of us aren't going to run and out drop thousands of dollars to buy a 3D printer with implications and uses that aren't still fully understood.
But what if a fully-functional, super easy-to-use 3D printer was available for $299? That's a lot more realistic and worthy of discussion in my opinion.
The Micro is the first consumer-grade 3D printer designed for novices and experts alike. From its modest price tag to its compact size to the custom software that allows anyone to start 3D printing without any prior experience, The Micro is changing the game.
The company behind The Micro is M3D LLC – founded by David Jones and Michael Armani. They created the idea for a consumer-grade 3D printer after looking at existing designs and realizing that the technology would never really go anywhere unless average people like you and I could afford the product and use it successfully without lots of training or experience.
The Micro boasts some significant innovations over other filament-based 3D printers currently in production including:
It is the most space-efficient 3D printer available – Although this means you can't create large objects with The Micro, it fits nicely on a desk and is capable of printing a variety of objects.
A micro motion chip provides automatic leveling and calibration – Many 3D printers require users to calibrate the device before every print job; a task that falls outside the skill level of most consumers interesting in the technology.
According to M3D, The Micro is the quietest and most power-efficient 3D printer in production.
The use of carbon fiber rods reduces weight, makes the printer sturdy and the rods are self-lubricating (again making this printer easier to use and maintain than other products).
Modern, touch-enabled software allows users to drag-and-drop objects into the print queue quickly and easily.
Replaceable nozzles enable experiment-minded individuals to work with different filament materials.
Completely designed and assembled in the United States, M3D funded the development of The Micro using an extremely successful Kickstarter campaign that raised $3.4 million.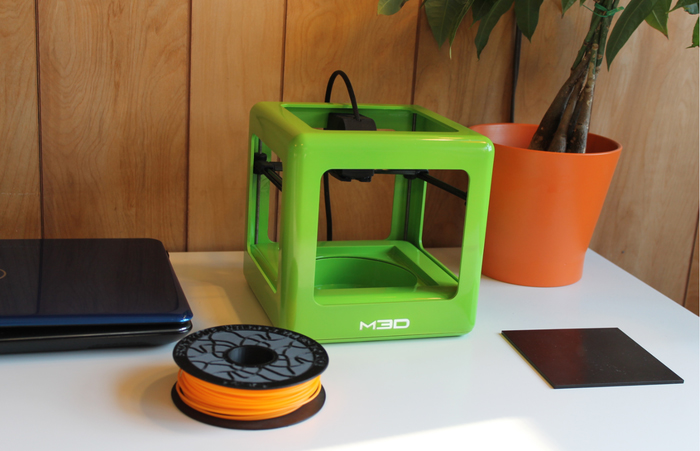 I agreed with comments left by some of our readers that the likelihood of 3D printers becoming as commonplace as conventional inkjet printers in the home is a stretch – well, at least that's how I felt until The Micro was introduced.
This product is barely more expensive than a high-end inkjet printer and could revolutionize the way we think about 3D printing. Even small businesses with limited budgets could start making professional-quality prototypes using The Micro.
The versatility of the design is another attractive aspect of The Micro. Using a standard USB cable (included with the kit), The Micro works with any Windows, Mac or Linux machine.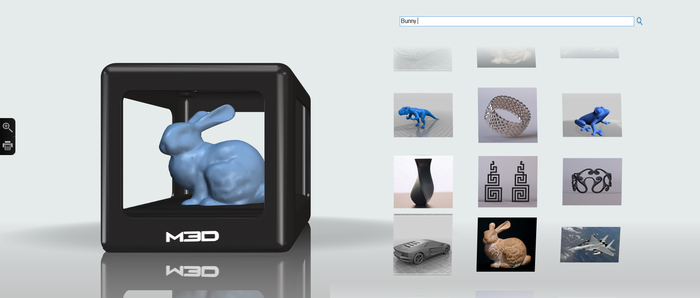 It supports the use of standard 1.75mm filament made from various materials including ABS, PLA, Nylon and others. This means customers aren't forced to use M3D-branded filament (although they do offer quite a few colors and options). Any standard filament designed for 3D printing works in The Micro.
The revolutionary software M3D created for use with The Micro is open-source. Advanced users are free to modify and improve the software as necessary to achieve custom results.
Here's what it boils down to: The Micro is an affordable, easy-to-use 3D printer relying on powerful open-source software.
M3D hopes that by putting the power of 3D printing within reach of most Americans the technology can continue to improve and additional uses for 3D printed products will be discovered much faster.
After reading about this product, I can't help but to agree with their thought process. In fact, by the end of the year I should be making my own 3D products at home thanks to The Micro.