Home gardening tech has turned out to be a big market this year and I wanted to take a moment to discuss one of the newest gadgets to hit the market that can help us all become better gardeners while conserving water at the same time.
As with so many of these innovative ideas, this new project just appeared on Kickstarter (a crowd funding platform) last week as a joint venture between soil scientist Jason Aramburu (@jasonaramburu) and Yves Behar (@yvesbehar).
For those of you not familiar with Yves, he is the founder of fuseproject; a San Francisco-based design firm behind all sorts of sustainable projects. fuseproject has worked with Fortune 100 companies to make existing products more sustainable (such as redesigning the shoebox with Puma and creating a low-carbon-footprint chair with high-end chair manufacturer Herman Miller).
The company is also involved with various non-profit initiatives that all focus on sustainability in one form or another.
Point being that fuseproject always has something interesting going on including this latest project known as the Edyn Smart Garden System. Aramburu came up with the idea after years of working with farmers in Panama and Kenya. Originally, Aramburu tried to start a sustainable fertilizer business and worked closely with these small farmers to implement the fertilizer solutions.
Eventually, Aramburu realized that technology and soil sensors could be the core problem faced by many of these small farms so with the help of fuseproject, the Edyn Smart Garden System was born.
The idea behind this project is that if a gardener or farmer can see exactly what his or her plants need, the potential for success is greatly improved. In other words, most of us make somewhat educated guesses when it comes to what our plants need (i.e. water, fertilizer, sunlight, etc.), but what if we didn't have to guess anymore?
What if a product could monitor the health of the soil and tell us exactly what we need to do to keep our plants growing healthy and strong?
That is exactly the question Edyn hopes to answer. After all, most of us are extremely busy with work, family and friends so it can be difficult to spend as much time in the garden as we should. I know I'm guilty of neglecting my own plants from time to time when life throws me a curve and I'm sure many of you have the same problem as well.
Check out their Kickstarter video:
Components Of The Edyn Smart Garden System
The Smart Garden System is comprised of two parts: the garden sensor and a smart water valve. The sensor interfaces directly with a smartphone to provide real-time data about weather and soil conditions. The app also provides suggestions for which plants to grow, when to start them and a host of other useful information that can make even the most inexperienced gardeners look like professionals.
The smart water valve connects to the garden sensor and automatically controls the flow of water in your garden to provide the ideal soil moisture content for all your plants.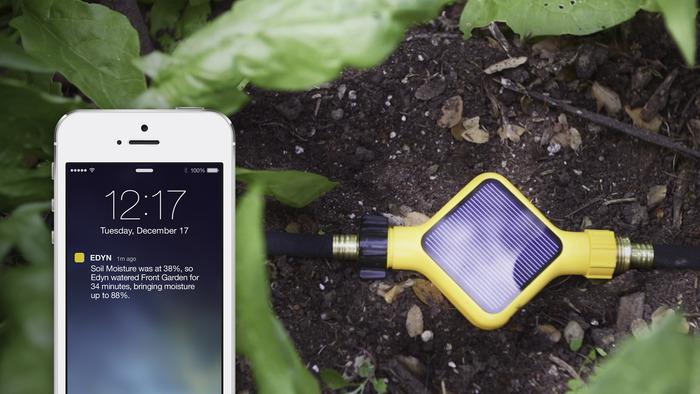 The app can even connect via the cloud to provide real-time data while you are at work or on vacation.
Even if you are an experienced garden, Edyn helps deepen your understanding of the minute changes in soil architecture that often have a big impact on crop production. The app lets you know about potential problems well before these problems become visible.
Whether you are a novice or master gardener, I am confident that this product can make all of us more successful when producing our own food at home. It also works well for small farms as multiple garden sensors can be hooked together to monitor specific areas/plant types within the garden.
Cost And How To Get One
What makes this technology most promising is that it is affordable. Early bird adopters to the Kickstarter campaign (which has already surpassed its initial goal of $100,000) can receive a garden sensor for just $99 and the sensor and water valve can be purchased together for $159.
Not only is this a cheap way to start leveraging technology in the garden, but you will conserve water and raise healthier crops – all while cultivating a more intimate relationship with the food you eat. From seed to harvest, Edyn is a great product that we should all consider.
Check out the Kickstarter campaign yourself here. Even if you don't decide to back it right now, I'm sure they will be available commercially by next planting season and I plan on trying it out.