Here's a neat little axe for you. It's the Fireside Friend Splitting Tool by Estwing, and it's all forged in a single piece of steel.
Performance – 8
At 14 inches (35,6 mm) and with a 64 oz (1.8 kg) axe head, this is a compact yet heavy hitting axe. The shape of the head provides good splitting power and I had no trouble chopping through both bigger and smaller pieces of firewood.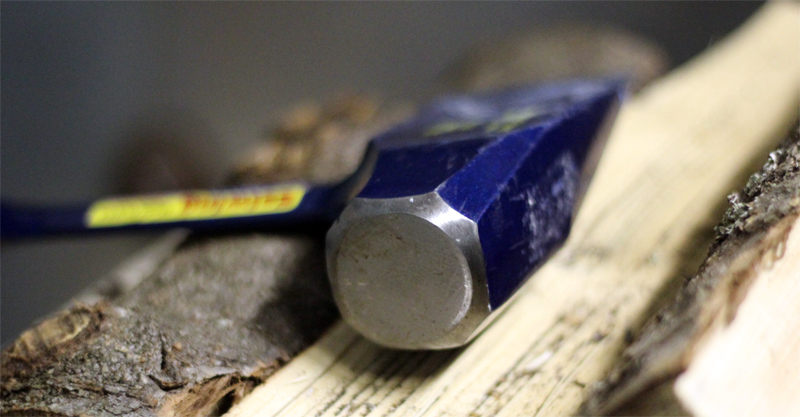 The axe head
The back of the axe head is flat and works very well as a hammer to drive down poles, tent spikes, etc., plus you can use it for more accurate aiming by positioning the axe and then hitting the back with a piece of firewood.
So where does the axe shine the most?
It's not something I'd use as my main splitting axe, because the short handle requires you to use more energy to get the same hitting power as with a longer axe, so you tire faster.
The main use I see for it is to chop bigger pieces of firewood into smaller pieces.
This axe is perfect for preparing "starter" firewood (see below photo), the thinner pieces of wood that are needed to get a proper fire going. It has made my life a whole lot easier, for sure.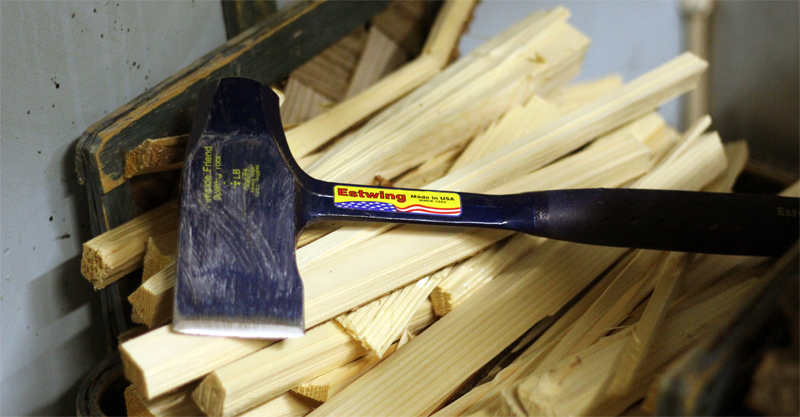 The results after a short period of chopping
As for the edge, it came sharp and ready to use out of the box, and it's been holding a good edge even after weeks of use. This is not surprising, after all the edge only comes in contact with the wood a very brief moment when it hits the wood and then the wide axe head takes care of the rest.
To know if this is the right axe for you you'll have to ask yourself what exactly you need an axe for. If it's only for processing firewood on a small scale then this is a great performer, but if you can see yourself having to chop down a tree every now and then you might want to go with a dual-purpose axe.
Construction Quality – 9
This axe is forged in one piece, which makes it extremely strong. There's no wooden handle that can break or that you need to maintain, instead you'll find a thin steel handle that has a Nylon Vinyl Shock Reduction Grip on one end.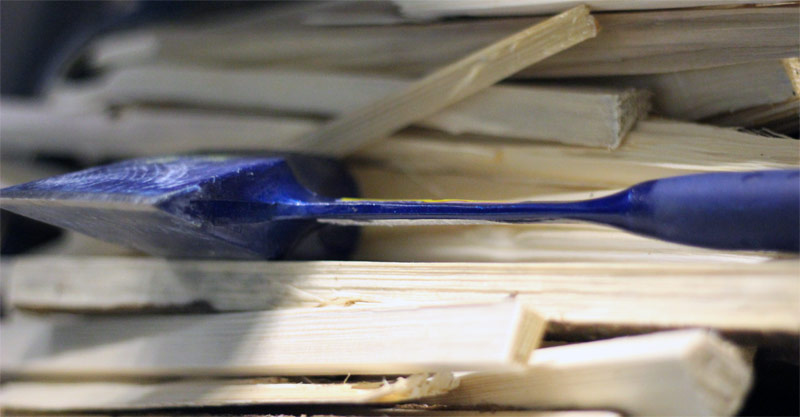 Look how thin the handle is!
Even though the handle is so thin the axe feels and is very strong due to the way it's built.
Bottom line, it's a solid axe.
Ease of Use – 8
The handle gives a great grip in wet, hot and cold, and the small size makes it easy to use even indoors (watch out so you don't hit the floor though).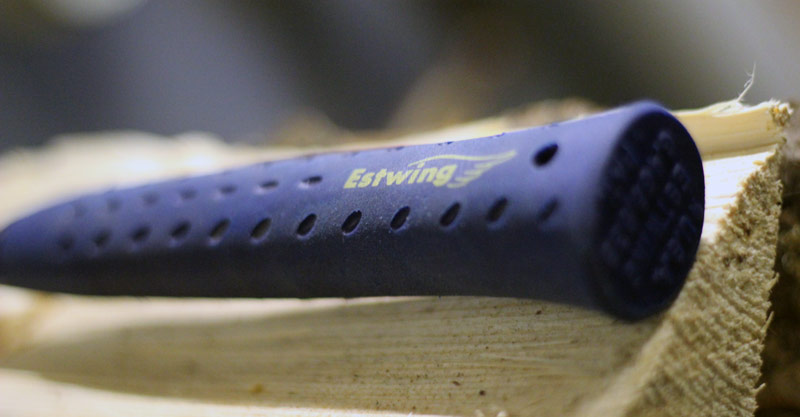 The handle gives a good grip
Estwing advises you to use safety glasses at all times when using the axe, in case you strike a hard surface and it chips. I concur.
Maintenance – 9
You won't have to worry about repairing or changing handles with this axe, so in that sense there's less maintenance compared to a traditional axe design.
All you have to worry about is keeping the edge sharp, and with any sharpening stone that should be an easy job.
Brand Reputation – 8
Estwing has been around since 1923 when Ernest Estwing founded the company, and they're known for their quality hammers, axes, prybars, and other speciality tools.
When asking around it's clear that Estwing tools are regarded as not only very high quality but also as beautiful tools (especially their leather grip nail hammers). Disregarding the ugly axe sheets, I can't agree more.
Guarantee – 7
Estwing state on their website that they do not provide a lifetime warranty, but they fully warrant their products against failure in normal use. They do not however warrant their tools against misuse, abuse or wearing out. Sounds fair to me.
If you do feel you have a fair claim you can contact your Estwing retailer. If you can't reach them then you can call Estwing customer service at 815-397-9558.
Sustainability – 6
Compared to a traditional axe design this axe loses out a bit in the sustainability-area. The one-piece steel axe takes more energy to forge than just a head, and the nylon vinyl handle is not in the same league as a wooden handle.
However, you'll never have to spend energy on producing or changing wooden handles so it's not all bad. Plus, this axe will likely last you a lifetime, and imagine all the renewable energy you'll be able to take advantage of during that time.
Self-Reliance – 6
This is a single-purpose axe designed only for splitting firewood, so it's not as versatile as a regular campers axe that you can use for both chopping across and along the grain of the wood.
However, if you already have a dual purpose axe then the Fireside Friend Splitting Tool is a great complement that can make your life a lot easier when it comes to getting that firewood ready.
Value – 7
At $29 on Amazon I think this axe represents good value as a small splitting axe. It's around the same price as the Estwing Sportsman's Hatchet, which is a better allround axe if you plan on using it for more than splitting.
Excitement – 6
It's a quality splitting axe, but in the end it's just a splitting axe. Splitting firewood means heavy work, and it's not the best use of my time here on planet Earth. The day when the process is fully automated without requiring human energy, or better yet when I don't have to burn firewood to stay warm, that day I'll be more excited.
Specifications
Item Number: E3-FF4
Overall Length: 14″ / 356 mm
Cutting Edge: 2-3/8″ / 60 mm