The Origo 5100 HeatPal by Dometic is an electricity-free heater and cooker that provides 1500 watts of heating or cooking power. It's designed for being used on boats, but it can just as well be used at home when there's no power available. The company says it's great for when you go out camping as well, but to me that feels more like a marketing pitch than something you'd actually do (when out camping chances are you can start a real fire).
I wanted to put an alcohol heater like this to the test because it's an interesting backup heating method for those who can't afford or make room for a wood-fired stove (apartment dwellers for example).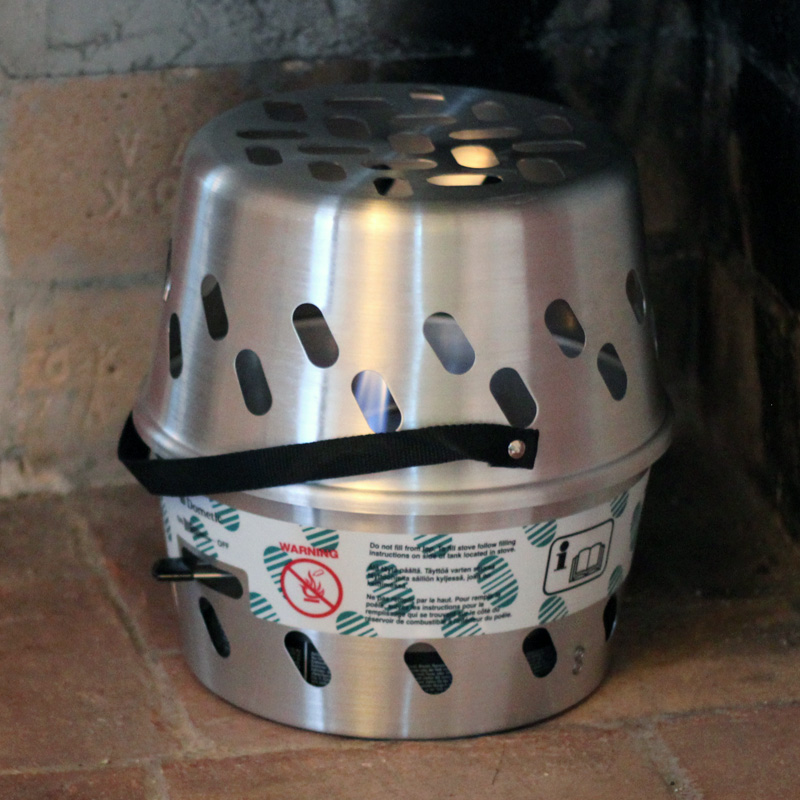 Full view of the heater
The pro's are that there's no pump that can break and no risk of explosion because the fuel is not pressurised. But it's not perfect. It's poor at spreading the heat and alcohol is a relatively expensive fuel.
Read on for the full breakdown.
Performance – 7
The HeatPal can boil a liter (34 oz.) of water in 15 minutes with its 1500 watts of heating power, but what I was mainly interested in when I tested the HeatPal is using it for heating.
The included alcohol-fueled container holds 40 oz (1.2 L) and that will give you between 4-5 hours of burning time at the maximum setting, or double that time (~10 hours) at a medium setting.
So does it provide good heat? Yes! You can really feel the 1500 watts. But the Origo 5100 does a poor (non-existent) job at spreading that heat, it simply rises straight up.
In small spaces (like a boat) I can imagine this would be less of an issue because you'd heat up the space rapidly anyway, but in my testing where I had the HeatPal in a larger room it did take significant time to feel any noticeable difference in temperature.
You could however place a fan behind the heater which would blow out the heated air into the room, and that would give you a more even heat distribution. Just make sure the fan is aimed at the rising hot air and not pointed straight at the flame.
Construction Quality – 9
The Origo 5100 is made out of aluminum and stainless steel, and it feels really well built. The weight is 2.5 kg, and the diameter is 11.20 inches (285 mm). The height with the lid on (heating mode) is 11.20 inches (285 mm), and the height with the lid off (cooking mode) is 5.9 inches (150 mm).
The height with the cover on does look a bit weird, but the cover mainly serves as a safety measure to protect you from getting in direct contact with the flame.
As for the fuel container, it contains a non-flammable material that absorbs the alcohol and helps give an even burn.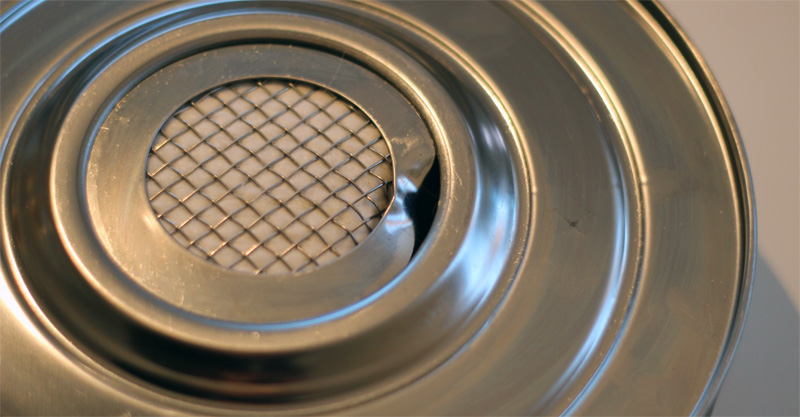 The fuel container with a mesh opening where you pour the alcohol.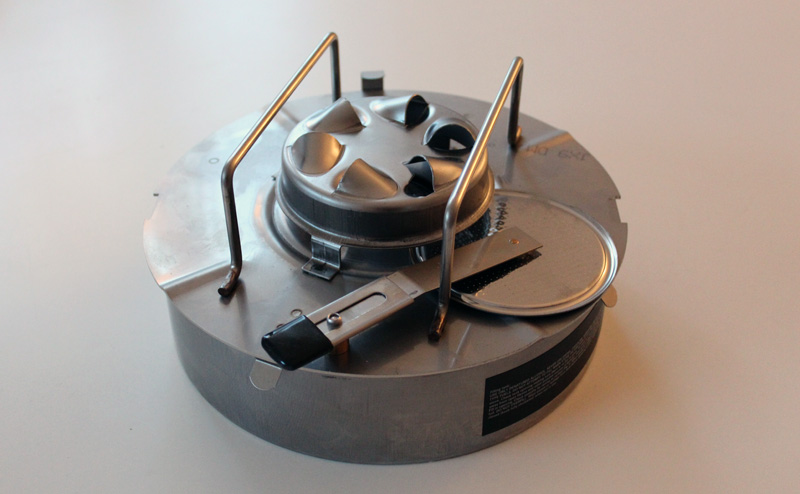 The burner unit
Ease of Use – 8
The HeatPal is really easy to use. It's easy to fill, it needs no priming or preheating, and it's easy to adjust the heat.

You can easily adjust the heat, or extinguish it completely, using the handy lever.
Not to forget, the fact that the fuel container is nonpressurized adds a sense of comport as well.
To use it as a heater, light the alcohol fuel and leave the cover on, or remove the cover to use as a single-burner stove.
Maintenance – 8
There's no maintenance to speak of, aside from making sure that the flame is extinguished properly after each use, and also making sure you don't overfill the fuel container above its maximum capacity of 1.2 liters.
Brand Reputation – 6
The history of the Swedish company Dometic started back in 1922 when Munters and Baltzar von Platen invented absorption technology in their company AB Arctic. A year later AB Arctic was acquired by Electrolux that then initiated mass production of refrigerators.
Fast forward over 90 years and the company that is now called Dometic Group has grown to include several brand names, with the main two brands being Dometic and WAECO.
Dometic is a worldwide supplier of RV and Marine products, for example refrigerators, awnings, climate control systems, sanitation systems, and more. To be honest though, I haven't been able to find much information about Dometic, and that could be because Dometic seems to mainly cater to other businesses rather than directly to consumers.
Guarantee – 5
You'll get a one year warranty on the Origo 5100 HeatPal. Pretty standard, and I'd be surprised if my HeatPal doesn't last way longer than one year.
Sustainability – 5
Dometic works a lot with sustainability in their company and they base this work on a complete lifecycle approach, i.e. "cradle to cradle" thinking, all through design, production, use and disposal.
With that said, the Origo 5100 is definitely not sustainable for heating or cooking mainly because the fuel is relatively expensive compared to other fuel types (such as wood or gas).
Self-Reliance – 5
The Origo 5100 does not play in the same league as a proper wood-burning stove in terms of self-reliance, but if that's not an option for you then this heater can have a major short-term impact on your resilience. In fact, in the city where alcohol might be more plenty than wood it could prove to be a pretty good option as a backup for heating and cooking.
Value – 5
At £117.25 in the UK and $189.99 in the US, this is quite an expensive heater. An alternative to the Origo 5100 is the Mr. Heater Portable Buddy Propane Heater, and with a price tag of $84.88 that feels like a more attractive option.
Then there's the fuel cost of course, and no doubt alcohol is more expensive than gas (and way more expensive than wood). That's another thing that favors a small propane heater.
Excitement – 4
I can't say I'm much excited about the Origo 5100 HeatPal, but that might be because I have both a fireplace and a wood-fired heater. If I had still lived in my cramped apartment or on a boat I might have felt differently. I'm mainly looking for ways to boost my self-reliance and reduce my long-term dependence on centralized infrastructure, and due to the high cost of fuel the Origo 5100 does not feel like it gets me closer to my goal.
Specifications
Fuel: Denatured Alcohol
Cooking/heating power (W) 1500
Height with lid on (in/mm) 11.20/285
Height with lid off (in/mm) 5.91/150
Diameter (in/mm) 11.20/285
Weight (kg) 2.5
Fuel capacity (l) 1.2
Burning time (max. power) (h) 5
Boiling time approx. (1l/water) (min) 15