The Pocket Socket 2 by K-TOR is a portable hand crank generator with a power output of 10 Watts and 120 volt DC, enough to charge most smaller electronics as quickly as in any wall socket.
As the name implies, this is the second version of the Pocket Socket and it comes with a stronger power train, improved electronics, stronger polycarbonate plastic body, and an improved patterned grip.
How useful is a hank crank generator really? Let's find out.
Performance – 8
The compatibility is excellent, because you can plug in any US power plug out of the box and with a travel adapter you can also plug in EU or UK power plugs. Chances are that you already have a USB power plug at home in which case you'll be able to charge all of your gadgets that get their power via a USB cable.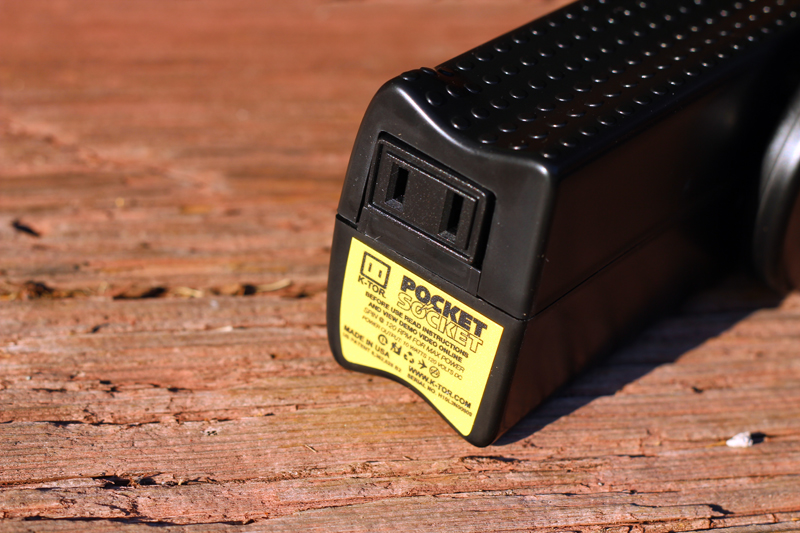 You can plug in any US power plug out of the box
I could successfully charge any gadget I could throw at it, from smartphones and tablets to regular LED lamps, digital cameras and even AA and AAA battery chargers.
The 10 Watts and 120 volts is more than enough to charge any common rechargeable device you might have at home, and it will charge at the same rate it would charge in a standard 120 volt household electrical outlet. If you can keep the crank going, that is.
According to the maker one minute of cranking is equal to one minute of talk time, and for other devices such as rechargeable flashlights you can get several minutes of use per minute of cranking.
Another aspect of the Pocket Socket that I like is that it does not depend on the availability of sunlight, wind, water or uranium fuel rods. In even the darkest cave you can still get usable power from the Pocket Socket.
This kind of flexibility and resilience makes it great as an emergency "last resort" power source. And if you ask me, that's what the Pocket Socket 2 should be viewed as, a last resort only. I explain in the "Ease of Use" section.
Construction Quality – 6
At 15 oz (425 grams) and a size of 2.5″ x 2.25″ x 6.875″ the Pocket Socket 2 looks and feels bulky. If you remember the early cell phones that resembled a brick, I get the same feeling when holding the Pocket Socket 2.
Now, of course a lot of components goes into the making of a device like this so the size is partly understandable. I couldn't help myself from taking it apart and here's what it looks like on the inside: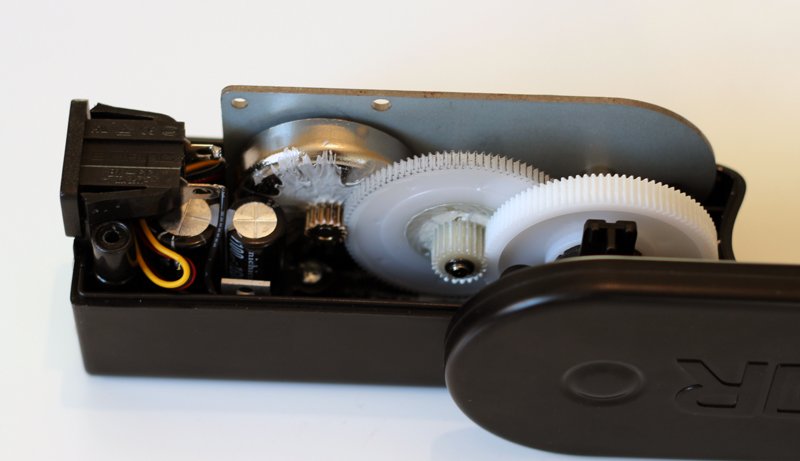 The inside of the Pocket Socket 2
I do think it can be further improved in terms of design though, both with regards to size and to the grip. I found that the improved and patterned grip still can be hard to grip firmly at times during use, and especially during prolonged periods of use.
The body and hand crank are both made out of black polycarbonate plastic that feels very robust. One weak point that concerns me is the knob on the hand crank that you fold out during use. Those attachment points are also made out of polycarbonate plastic and they're exposed to frequent movement and stress. So if the Pocket Socket 2 can be expected to break anywhere it's in that place.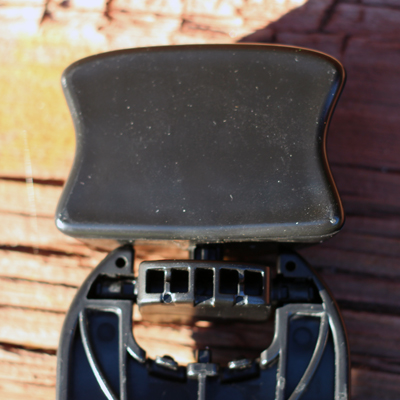 Potential weak spot in the construction
K-TOR states that you should expect the Pocket Socket to last for several years under normal use, and have constructed it out of durable materials with longevity in mind.
Ease of Use – 3
Here's K-TOR's own demonstration video of the Pocket Socket 2:
As you can see the Pocket Socket 2 has a large crank arm with a fold-out knob that you can turn either clockwise or counterclockwise, and it can be used left or right-handed.
It should be turned at no less than two revolutions per second (120 rpm) to get the optimum power output.
So as long as you turn the crank at least two revolutions per second you will charge your gadgets as quickly as in any wall outlet. While that sounds great it's actually harder than it sounds.
The included instruction manual says you should "rest after 3-5 minus of cranking, or as needed" and to be honest I had a hard time keeping up 2 revolutions per second for even 2 minutes.
Now, 3-5 minutes of cranking will certainly allow you to charge your cell phone just enough to make an emergency phone call or two, but not much more than that. And that's why I view the Pocket Socket 2 as a "last resort" power source.
I highly value passive methods of doing anything whether it's growing food, producing energy or generating an income, and cranking the Pocket Socket 2 for four hours (good luck with that) is just not comparable to leaving a 10 watt solar panel out in the sun for four hours while you are free to do other stuff.
Bottom line, with all the human energy required to crank the handle the Pocket Socket 2 is simply not a practical nor efficient way of producing power.
Maintenance – 5
There's no maintenance to speak of other than the fact that you are the fuel required to run this power generator, and that aspect should not be underestimated.
Brand Reputation – 5
K-TOR is run by the founder Kenneth Torino and based out of Colchester, Vermont that specializes in developing and manufacturing human energy driven portable power generators, and they currently have two products on the market.
A former IBM executive and electrical engineer, he created K-TOR "based on the idea that bio-mechanical energy created by every person could be easily and efficiently converted into electrical energy and made available on a personal level worldwide" and right now they have two products on the market.
The Pocket Socket 2 is a 10 Watt hand crank generator and their larger Power Box is a 20 Watt pedal powered generator that I personally have higher hopes for in terms of usability (review coming up soon).
K-TOR has a solid reputation on Amazon, and one thing I noticed is that the founder Kenneth is very responsive to questions and issues customers have experienced, and that's a big plus in my book.
Guarantee – 6
The Pocket Socket 2 comes with a 1-year warranty. Pretty standard.
Sustainability – 5
I don't think the Pocket Socket 2 is a sustainable way of producing your own energy, and neither is it sustainable in terms of manufacturing considering it's made of plastic and only last a few years at most.
On the plus side K-TOR does have a recycling program that provides reasonable repair cost or replacement parts should your Pocket Socket ever wear out from normal use after the warranty period has expired.
And if you ever get the urge to throw away your Pocket Socket you can actually send it to K-Tor and they'll either refurbish and donate it to people in need or they'll recycle the materials to the best of their ability.
Self-Reliance – 3
The Pocket Socket 2 is a great idea for self-reliance in theory, but in practice it fails to deliver.
It's not all bad and could actually prove useful as a last resort backup power source, but there are many better and more passive alternatives out there for short term emergency charging.
Value – 4
The K-TOR Pocket Socket 2 is for sale on their website for a price of $64.95 plus shipping, and they also sell through Amazon.
At $64.95 I don't think the Pocket Socket 2 represent good value.
Yes, a lot of development and technology has gone into the making of this power generator so in that sense $64.95 feels like a fair deal, but considering what else you can get for that price it does not seem like the best alternative.
So what other options do you have in roughly the same price range?
You can get two 13,000 mAh external batteries. The Anker 2nd Gen Astro E4 cost $29.99 and two of those will keep your smartphone charged for days (and weeks depending on usage), enough to get you through most scenarios
Add $15 and you can get the Torch 250 flashlight by Goal Zero that features a 2.2 watt hand crank, a 0.8 watt solar panel and a built-in 4,400 mAh battery. It can't compete with the Pocket Socket 2 in terms of power output but it makes up for it with the built-in battery and by being able to charge your gadgets passively from the sun.
Add $20 you can get a 100% passive 6 watt solar charging kit by Voltaic Systems that include a 6 watt solar panel and a 4,000 mAh battery.
Excitement – 3
If I had any initial excitement when I picket up the Pocket Socket 2 for the first time it quickly disappeared the instant I started cranking. As I've said before it's not a practical nor efficient way of producing energy, and even in emergency situations there are other options that will likely serve you better.
So what would be really cool?
How about products that passively generate energy from your body movements throughout the day. The first thing that comes to mind is harvesting the energy generated from walking.
How much energy can be harvested from the recommended 10,000 steps per day? I don't know, but it sure sounds preferable over hand cranking.
Another idea: A device that generates energy from spinning your office chair. If you sit for hours every day as I do then it should generate a decent amount of energy over the course of a week that can be stored in a battery.
Specifications
Power output: 10 Watts / 120 volt DC
Size: 2.5″ x 2.25″ x 6.875″
Weight: 15 oz (425 grams)