The Power Box by K-TOR is a human powered 120 Volt 20 Watt generator or, to make it simple, it's like a stationary bicycle that generates electricity as you pedal.
It's fitting that the power went out for 8 hours while I was writing this test report. I did not pedal for eight hours straight, but I did get to put the PowerBox through a real usage scenario and it was actually not too much of a distraction to pedal and write at the same time.
So what can you do with 20 watts of power?
The intended usage is to charge your small to medium gadgets, be it smartphone, tablet, camera, radio, walkie-talkies, flashlights, external batteries, etc., but if you want to light up a room with some LED lamps then it's totally feasible although not very practical.
The Power Box does a good job of charging your gadgets though. Here's the full breakdown:
Performance – 6
The Power Box charges your gadgets at the same speed as any wall socket, as long as you pedal at the recommended speed of 90 revolutions per minute (1.5 per second).
It converts the generator output to 120 Volts DC with a 85% efficiency. 120 Volts DC is compatible with all switching chargers — the type used with all portable electronics, because they are also very efficient.
Any device with a switching charger of less than 20 watts will work with the Power Box. This includes all modern cell phones, smart phones and all Apple products.
Gladly it can not only charge most stuff you can throw at it with the built in universal power socket, but the speed of 90rpm is also fully realistic to keep up with more than a few minutes.
The Power Box has a little brother, the hand-powered Pocket Socket 2 (review), which had the same performance with a 10 watt output but failed to deliver in terms of practicality.
It was not feasible to keep up the 90rpm speed with the Pocket Socket 2 for more than a few minutes, which severely limits the usability of the generator and makes it usable only for extremely short term emergency situations where you need some extra energy to be able to make a short phone call.
The Power Box on the other hand I could keep going for 30 minutes with just a moderate fatigue in my legs. 30 minutes can put a decent amount of energy into whatever gadget you want to charge, and if you're more than one person who can share the load that would make longer charging periods possible.
My conclusion though is that there are other alternatives out there that are better both for on-going maintenance charging and for backup power. The main reason for this is that the Power Box is a very active power source. If you don't pedal, you don't get any power. Compare this with a 100% passive power source such as a solar panel coupled with a battery, where the sun does all the work while you can do other things.
Construction Quality – 6
The Power Box is made of a mix of polycarbonate plastic and aluminium with rubber pedals. All the moving parts are made out of aluminium and feel durable during use, nothing flimsy at all. Some parts on the plastic case however does feel a bit weak, for example the feet.
Ease of Use – 6
Before you can use the Power Box you have to assemble it, and you get assembly instructions with your package. It's fairly easy to follow the instructions, the only thing I found trick was to insert the metal pins that hold the generator and the feet together. The pin holes was not perfectly aligned so I had to use quite some force to push them through.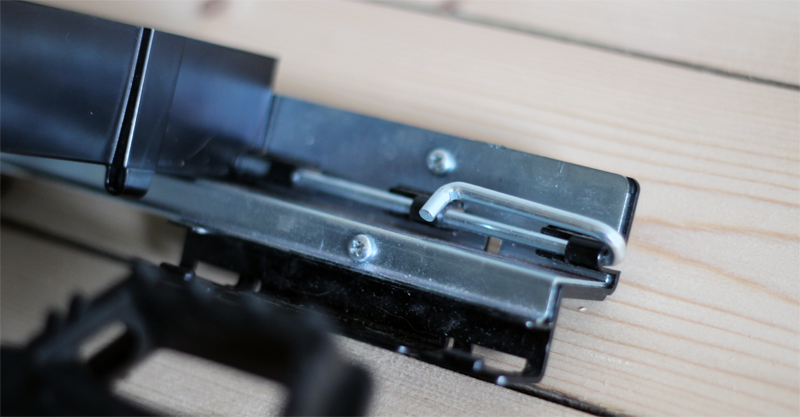 Some pins used to fasten the feet to the body were a bit tricky to insert
Here's how to assemble it, although he had an easier time than I did with the assembly:
Once it's assembled it's as easy to use as any bicycle… almost. Because of the relative lightness of the Power Box it has a tendency to move forward when you pedal, leading to interruptions where you have to move it back in place.
To prevent this from happening you either have to make sure you only apply force straight from above when you pedal (easier than it sounds), or you attach the generator to a heavier platform such as some wooden planks and pedal from a reclined and more comfortable position (see example in photo below)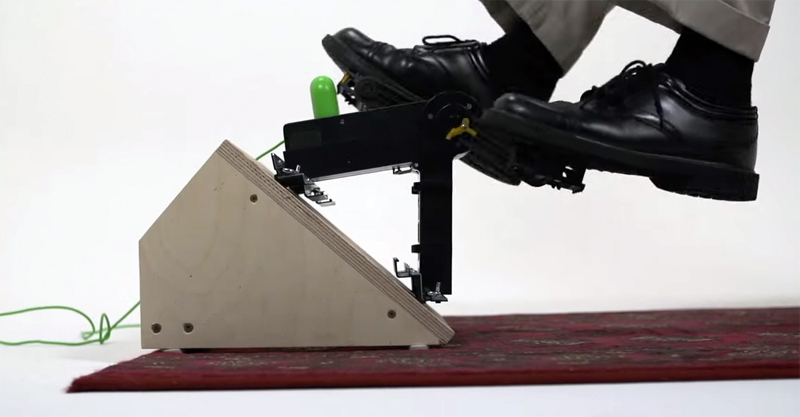 Example platform from the demonstration video below
Another slight issue I encountered was that as the pedals are real bike pedals they're not comfortable to use bare feet, so expect to wear shoes when using the Power Box.
To see the Power Box in use check out the official K-TOR demostration video below:
The big thing that detracts from this score is that it takes energy to keep those pedals rotating. 90 revolutions per minute is the recommended minimum pace, and that speed does limit the amount of time you can comfortably keep the generator going.
Another thing that might make people around you complain (as has happened in my house) is that the Power Box is anything but silent when in use. It gives off an annoying sound that might not matter in a hurricane or blackout, but for every day charging in the house or an apartment expect some negative feedback.
Maintenance – 8
There's no maintenance to speak of. If you can spare the extra storage space you'll likely want to keep the Power Box assembled and ready to go, and that saves you from having to assemble and disassemble it between uses.
Brand Reputation – 5
K-TOR is run by the founder Kenneth Torino and based out of Colchester, Vermont that specializes in developing and manufacturing human energy driven portable power generators, and they currently have two products on the market.
A former IBM executive and electrical engineer, he created K-TOR "based on the idea that bio-mechanical energy created by every person could be easily and efficiently converted into electrical energy and made available on a personal level worldwide" and right now they have two products on the market.
The Power Box that you've been reading about here is a 20 Watt pedal powered generator and their smaller Pocket Socket 2 is a 10 Watt hand crank generator that we've reviewed here.
K-TOR has a solid reputation on Amazon, and one thing I noticed is that the founder Kenneth is very responsive to questions and issues customers have experienced, and that's a big plus in my book.
Guarantee – 6
The Power Box comes with a 1-year warranty.
Sustainability – 5
The Power Box is a more sustainable way of producing energy than its smaller brother the Pocket Socket 2 because you can actually use it for prolonged periods of time. In terms of environmental sustainability it's still largely made out of plastic though and that detracts from both the durability and longevity of the product. It's not something I expect to be able to pass down to my grand kids, for sure.
On the plus side K-TOR does have a recycling program that provides reasonable repair cost or replacement parts should your Power Box ever wear out from normal use after the warranty period has expired.
And if you ever get the urge to throw away your Power Box you can actually send it to K-Tor and they'll either refurbish and donate it to people in need or they'll recycle the materials to the best of their ability.
Self-Reliance – 6
While its smaller brother the Pocket Socket 2 only got a 3 in Self-Reliance, the Power Box actually turned out to deliver a lot more in this area. The single biggest factor is that it's possible to keep the generator going for much longer periods of time.
I'd still favor more passive alternatives for day-to-day charging of my gear, but if there's a longer power outage in the winter time I'd sure take the Power Box out of the closet and start pedaling to keep my phone and radio charged.
Value –
At $195 + $17 shipping this is quite an expensive device. You can buy it through the K-TOR website or through Amazon.
Again, just as with the Pocket Socket 2 I'm putting the price in relation to other off-grid power sources, and when doing that I think there are better and more passive options out there.
For example, for roughly $200 you can get the Power Box, or any of these:
So if you live in an area with plenty of sunlight year round then you're likely better off with a solar-based solution. But if you live in the far North on the globe like I do, then having something to complement solar power during those long and dark days can be valuable.
Excitement – 5
The Power Box has its weaknesses and imperfections, but aside from that (and the annoying sound) it's a pretty cool tool. It will be left alone until a cold and dark day when we have a longer power outage, but when that day comes I think I'll be glad that I have it.
Specifications
Dimensions (folded): 12 x 5.5 x 3.5 inches
Weight: 4 pounds, 11 ounces (2.1 kg)
Power output: 120 Volts DC / 20 Watts
Efficiency: 85%