The AeroGarden 6 is an advanced NASA-tested hydroponic indoor growing system designed to make it possible to grow your own herbs, vegetables and flowers right on your kitchen counter.
Made by Miracle Gro, this high tech gadget uses a scientific approach to indoor gardening. The roots of the plants are suspended in air while the water reservoir provides optimal conditions and nutrients which results in hardy plants that grow up to five times faster than the traditional soil approach.
This particular model features two full spectrum Grow Lights, resulting in a 220% increase in yields when compared to the AeroGarden 3. Able to grow up to six different plants at once, its compact corner design makes it a nice size, while maintaining a clean, insect free indoor garden.
Performance – 8
When it comes to doing what the product claims to do, the AeroGarden 6 definitely does not disappoint.
Seed pods typically germinate and sprout within twenty-four to forty-eight hours and the plants grow at a vigorous rate, producing fresh lettuce, cherry tomatoes and aromatic herbs much faster and more conveniently than a traditional outdoor garden.
How much faster? See for yourself in their timelapse where they captured the growth of salad grown in the AeroGarden 6 side by side with growing in plain old dirt:
Additionally, according to AeroGarden testing, lettuce grown in the AeroGarden 6 had three-hundred times more Vitamin C than lettuce purchased at the grocery store and from other organic sources, so it is healthier for you as well!
Each of the components works as they are supposed to, although I have found that the "add water" indicator light is occasionally slow to engage, which will sometimes result in the plants wilting from lack of water before I'm alerted to the problem. Because of this, I ordinarily check the water level every other day just to make sure that my plants stay healthy.
Construction Quality – 8
Manufactured in Boulder, Colorado, the AeroGarden 6 is made of high quality light weight plastic, which makes it easy to set up and handle. The pieces fit together well, with no bumpy seams, ridges or gaps, and the light hood—which is where possible problems could occur—is strong and sturdy, and doesn't sag beneath the weight of the Grow Lights.
It has a space age look to it that is very modern and blends in with all the other appliances in my kitchen. It has a slightly textured feel and looks good on my countertop, especially when the plants all grown in.
Ease of Use – 8
The AeroGarden 6 is very easy to use. The garden assembles quickly straight out of the box without the use of any tools, and comes with everything you need to start growing your very own plants. The set includes your garden, the specially designed Liquid Nutrients and the Gourmet Herb Seed Pod Kit—Genovese Basil, Thai Basil, Chives, Cilantro, Curly Parsley, Dill and Mint.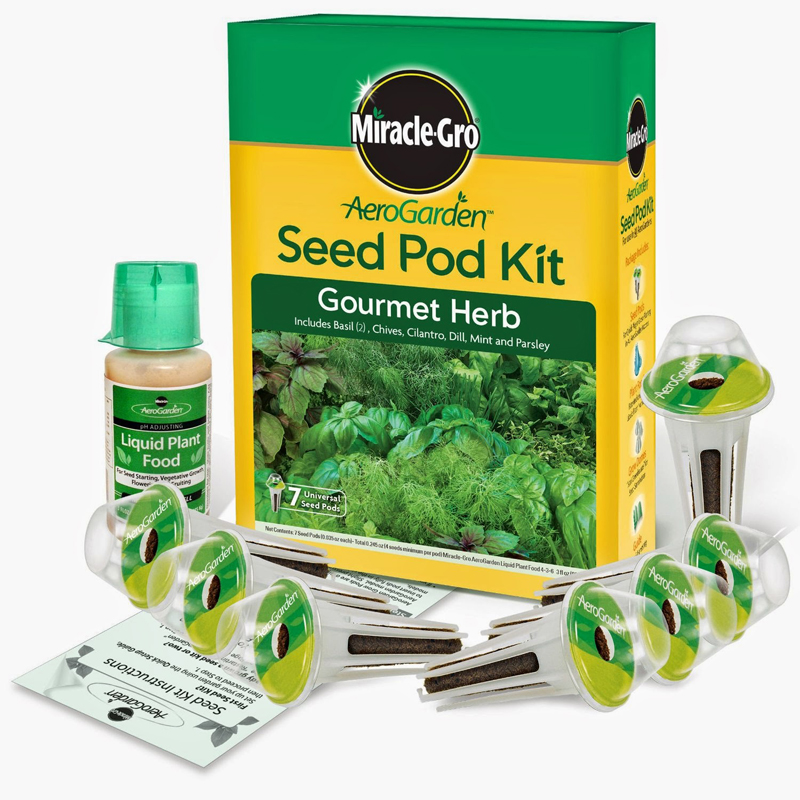 You definitely don't have to have a green thumb to use this product.
Additionally, once the seed pods are in place and the water and Liquid Nutrients added; the easy to understand control panel does the rest.

The AeroGarden 6 control panel
It automatically turns the lights off and on in order to ensure proper growth, and delivers a steady and correct amount of water and nutrients the plants need. Because you can program the light timer yourself, I use natural light during the day and prefer having the Grow Lights engage during the night. As the plants grow, you simply adjust the height of the Hood Lamps. As I said, very easy.
Maintenance – 8
Other than replacing the Grow Lights, there is very little routine maintenance required for the AeroGarden 6. The company recommends replacing the Grow Lights every six months and, while the bulbs will certainly last longer, older bulbs hinder the productivity of the system and results in a diminished harvest.
It is extremely easy to replace the bulbs—they merely pop in and out—and can be purchased directly from the company for $24.95 per two pack. For a little under fifty dollars, you can grow your own garden vegetables and flowers for an entire year. In my opinion, that's a whole lot of bang for your buck. Nothing tastes better than homegrown herbs and veggies!
Brand Reputation – 9
AeroGrow is based in Boulder, Colorado and has sold over a million AeroGardens since it launched its first product in 2006.
While it is true that the company ran into some financial difficulty, since partnering with Scott's Miracle Gro, the company has seen tremendous growth. Scott's Miracle Gro enabled additional funding, which AeroGrow has utilized in its research and development departments.
Additionally, because Scott's is an established, multinational business—it began as a lawn seed company in 1868—Aerogrow has enjoyed the benefit of the Scott's Miracle Gro branding and reputation, as well as its worldwide distribution channels, most notably The Home Depot, Lowe's Home Improvement and Costco.
Scott's is a trusted name in the lawn and garden department, and the Miracle Gro technology is second to none when it comes to soils and fertilizers.
Guarantee – 8
The AeroGarden comes with a thirty day money back guarantee and a one year warranty. I haven't had to use either of those options and have been very happy with my AeroGarden to date.
I had one little problem with a Seed Pod not sprouting, which resulted in a call to their customer service department. My experience there was quick and painless. The friendly customer service representative apologized for the problem and assured me she'd take care of it. She did. I was promptly sent a replacement seed pod and another "complimentary" seed pod for my trouble. These were sent completely free—I didn't even have to pay for shipping.
Sustainability – 7
The AeroGarden 6 isn't the least bit complicated and uses very little energy, particularly considering the value for the cost. The technology has been NASA-tested and approved, and the company keeps rolling out new and improved designs. In the sustainability department, in my opinion it earns a solid A.
Self-Reliance – 6
When it comes to self-reliance, the AeroGarden 6 isn't going to produce enough variety to completely eliminate the need to go to a farmer's market or grocery store. It's a countertop indoor growing system, not a hydroponic full sized green house. Its size alone prohibits total self-reliance and it's not designed for that, but it certainly gives me a better feeling about the salads and herbs I'm eating myself and feeding my family.
I consider my AeroGarden as a key piece of my kitchen equipment and, much like my refrigerator, can't imagine never having one.
Value – 7
The AeroGarden 6 can be ordered with free shipping from Amazon for $129.98 and to me and my family, it's worth every penny. When considering the value in relation to the price, I feel like the AeroGarden is a very good investment.
I enjoy having fresh salad greens and cherry tomatoes for salad, and love having fresh herbs for cooking. While I have researched similar products, I have to say that the AeroGarden really has no competition. It's tried and true and has become a key appliance in my kitchen.
If you're interested in getting an AeroGarden then check out their full range of AeroGardens here. You might find another model more suitable to your situation. For example the AeroGarden 7 is their most popular model, so you might want to take a look at it before deciding.
The seed pods are super easy and available in several varieties. That being said, my personal favorite seed pod kit is the one with a mixture of gourmet herbs. You get tall Genovese Basil, Oregano, Thyme, Mint, Lemon Basil, Globe Basil and Dill. There are so many dishes that are enhanced by these herbs and cooking with them will indeed make you feel like a gourmet chef.
You can buy the seed pod kit for about $18 on Amazon and the plants are ready to start harvesting in a mere 3-4 weeks. They're all "cut and come again" and you can continue to harvest fresh herbs for up to 4 months. By the way, the nutrients needed to keep the herbs robust and healthy is included in the seed pod kit, as well.
Excitement – 7
I really can't say enough good things about my AeroGarden 6. It's so incredibly easy to use and just seeing my plants growing there on my counter makes me want to do the Happy Dance!
Knowing that I'm raising them myself, from NASA-tested technology, without any harmful chemicals or pesticides and from heirloom seeds which haven't been genetically altered, gives me a sense of confidence about the food I am feeding my family and friends.
Though I know lots of other users of the indoor garden like to grow flowers in theirs, admittedly I have not tried that yet, although as I've just recently purchased the AeroGarden 7 as well, that might change. Other than having an additional seed pod slot, I can't say that I've noticed a tremendous difference between the two models. Then again, it is hard to improve upon perfection and it's safe to say that I'm in love with the whole AeroGarden system.
The salad greens are always fresh and tender and the cherry tomatoes taste as good, if not better, than the ones my grandmother used to grow every summer in her kitchen garden. Having common herbs at my fingertips—a pinch of mint for my tea, a few snips of chives for my baked potato, cilantro for my scrambled eggs, fresh basil for bread, dill for my potato salad, a few leaves of parsley to add a little kick to my chicken enchiladas… Those little touches make a big difference and, ultimately, it is the little things that often bring the most joy.
I am at a point in my life where I am evaluating the things that make me happy versus the things that do not, and I am in the process of eliminating anything that brings about additional stress.
My little AeroGarden is a stress reliever of the first order. Watching the seedlings sprout, then grow into beautiful plants brings me an immeasurable sense of pleasure, as well as lovely, healthy things to eat. That's a win-win in my book.
Specifications
Assembled Depth: 11 inches
Assembled Width: 16 inches
Assembled Height: 21 inches
Container Depth: 5 inches