We've all been in that situation. You know, the one where you're on the road, your smartphone's GPS is devouring battery power faster than Adam Richman can swallow a five pound steak, and fishing through your center console you realize your charge cable is missing.
Luckily, mankind has provided a solution for just this type of occurrence.
Today I introduce to you the XTG-SOL1500, a low-priced solar cell phone charger produced by XTG Technology. Included in this kit is a portable battery charged by an attached solar cell, two optional use suction cups, and a USB to micro USB cable.
I've owned my XTG SOL charger since 2009 or so, and though it's performed well enough I've found the design to be a hastily made convenience product rather than a quality tool for self-reliance.
Summary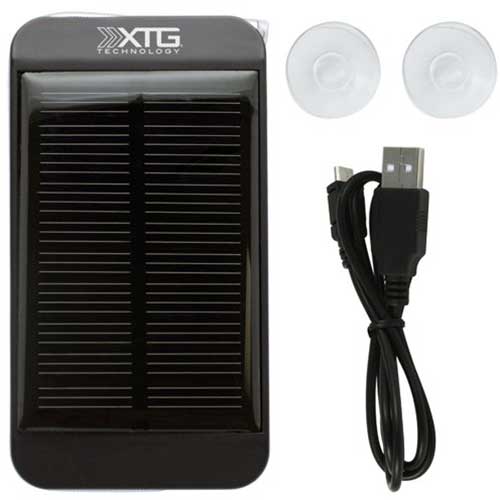 In a nutshell, the XTG SOL is a multifunction tool: it's a battery pack with a full-sized USB port to charge your electronic devices, and a micro USB to connect it to a power source like a laptop for faster-than-the-sun charging. But it's sleek, small, and lightweight, making it an extremely portable and attractive little gadget.
Adjusting the main on/off switch to a third position, LED, turns on the second feature of the SOL: a LED flashlight perched on the end of an adjustable metal neck. The gooseneck lamp is bright, and the metal holds its form—perfect for late night reading at your campsite or on your flight. The neck wraps around the body of the unit, ensuring mobility without snagging anything on the way.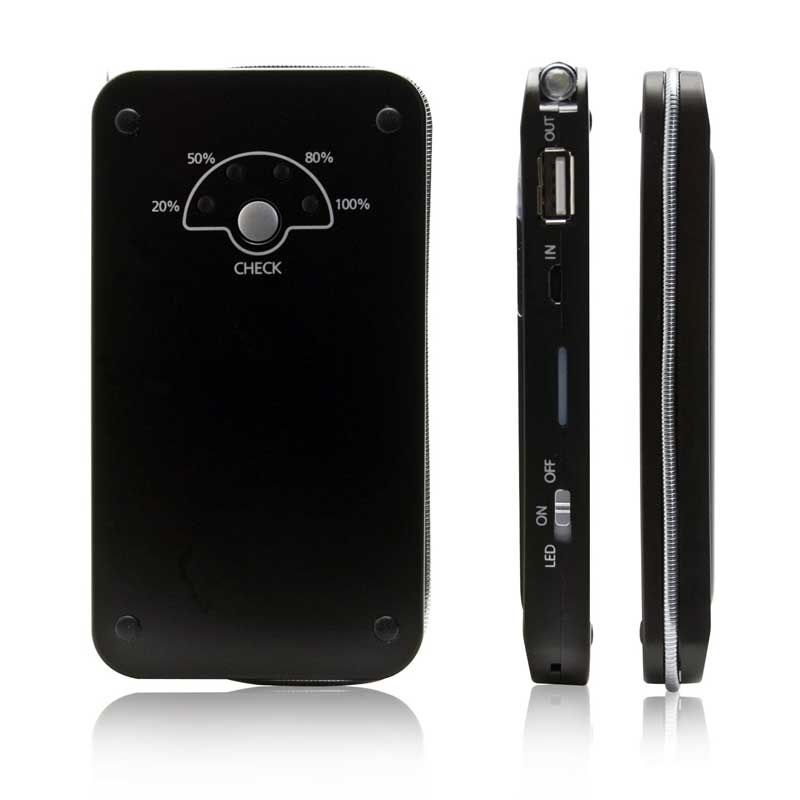 What's more, there are a few helpful indicator lights placed around the case. On one edge, a red glow means the internal battery is charging and a blue glow means your SOL is charging an external device; by pressing and holding a small button on the backside, an indicator light conveys what percent of battery remains to be used.
Performance – 4
XTG claims 4 hours will fully charge the battery via USB, but I've actually had better experiences with jumps from 50% to 100% (according to the indicator lights, at least) within as little as 20 minutes.
Charging the battery via solar can take a few hours more. At first it was a 3 to 4 hour exposure to pure sunlight, but that's tapered off over the years and now I often wait 4.5 to 5 hours before the sun brings it to a full charge.
Exposure to sunlight while the SOL is connected to your smartphone or other device directly charges your electronic instead of the battery, but once your phone's full the SOL automatically switches back to charging its own battery.
The Solar Cell Phone Charger performs to the standard one would expect for its price range. The LED light lasts for almost 3 hours on a full charge, which is more than enough for your late night reading.
The output charging capacity certainly leaves something to be desired at only 1500mAh, since my iPhone 5 would only receive a 60 to 80% battery boost during an hour's refuelling session. This is the main reason for the low Performance score. Other solar chargers in about the same price range have double to triple the battery capacity.
The SOL's advantage is when the sun's out, allowing for a steady stream of charging. I've made a habit of connecting my phone to the SOL and leaving it in the sunlight between midday and the afternoon, when I don't happen to be making a lot of calls. Afterwards, I can still use the XTG to charge my phone at night or whenever I happen to be on the road.
Construction Quality – 7
The SOL is made in China, but it's above average for that category. It's made of a black lightweight plastic, a common grade silicon cell, and the metal gooseneck LED. The neck holds its shape surprisingly well and wraps around the edge of the case to get out of the way. On the downside, the SOL is similar to an Apple product in that it's sealed shut, can't be opened with a screwdriver, and is meant to be tamper proof.
I've found that XTG Technologies hasn't produced a very robust product: it's not capable of handling much abuse. After tossing it into my bag, letting it slide around the dash while driving, and just leaving it under hot sunlight, some parts have revealed their weaknesses. The LED isn't functional anymore. There are problems with the red/blue indicators lighting up. Crucially, there's a slower output charge—about 10% every 20 minutes for my iPhone 5.
A major flaw in its design is that the included suction cups are meant to attach the smooth surface of the solar cell to a sunlit window. Yet by having the suckers attach to the sleek solar cell a loss of surface area occurs—this is critical for anything solar because more area means more power. Adding the suction cups to the SOL will lower its ability to charge from sunlight.
Ease of Use – 9
I tend to throw the charger around quite a bit. Since I use it on the fly, I'll keep it on the dash of my car or on a windowsill to bask in the light. Suction cups can make it a dedicated windshield fixture if you don't mind the performance loss. Of course, the SOL is absolutely simple to use with just an ON/OFF/LED switch. Leave it by the window and rotate charging times, or just attach it to your phone during heavy use and work in the sun.
Maintenance – 8
There's virtually no maintenance associated with the XTG SOL. It's not meant to be taken apart or repaired, but you should also expect it to perform to optimum standards for at least the first 3 years. If something does go wrong, its price is low enough to treat it as a disposable article and grab a brand new one (or invest in something of higher quality).
Brand Reputation – 5
XTG Technology is a manufacturer of a variety of convenience chargers, primarily for use in the car. Only a few of their products actually use solar cells, so I wouldn't expect them to focus on making the most of the solar. This is actually reflected in some online reviews about the cell phone charger, where some users have found that a full battery charge is not possible from only the solar cells.
Guarantee – 3
The XTG website accepts returns due to defects in workmanship and/or manufacturing within 30 days. They do not provide a phone number, but they have a dealer portal, meaning they're geared to deal with businesses rather than individuals. I'd recommend that if you have problems with your SOL you should go to your vendor and have them deal with XTG.
Sustainability – 4
This is a typical example of a consumer device created for convenience more than anything. It will likely end up as e-waste after a few years of use. There is a high embodied energy associated with manufacturing solar cells, plastics, LEDs, etc. From a net zero standpoint, building one of these most certainly nets more carbon emissions than it'll save in its lifetime—but that's not its purpose. Again, the XTG is meant to help you in a pinch, to provide access to a charger during those times you're away from handy cables or plugs.
Self-Reliance – 7
There are certainly numerous situations that justify grabbing a SOL device. You'll still need your USB cable with you, but for the times you're not at home or the office, this charger can help keep you off the grid on a day to day basis.
If you're out on a camping trip, taking a long flight, or at any event where you'll be away from a wall outlet but need your smartphone, the SOL lets you gather power from the sun and use it to keep you connected.
The only problem is that it'll take multiple charges to keep your stuff running, so softer use on your phone will be needed.
Value – 6
On Amazon this charger starts around $24.99.
Now, for just a couple of dollars more you can find similar chargers with nearly triple the battery capacity, a little more durability, and probably without a flashlight. The Levin 5000mAh solar charger and the Poweradd Apollo 7200mAh are two examples.
If all you need is a cheap portable charger, this is a decent choice if you can find it for cheaper than $24.99 (it has been for sale for as low as $12). But if you're going to be sleeping in tents on the side of a cliff, go with a product that specializes in outdoor independence.
Excitement – 4
The SOL isn't much of a big leap in technology. It's a practical and useful package that uses 50 year old technology – the solar cell – to bring a convenience product to the consumer market. But that's where it has the greatest market advantage—convenience and the elimination of the need for constant grid-connectivity at a great price.
Specifications
Compatibility: DC 5V USB powered devices
Solar charge: 120 mA
Input: DC 5V +/-5%
Output: DC 5V +/-5% 500 mA
Battery: 1500mAH Lithium rechargeable battery
Dimensions: 120 x 65 x 13mm (2.5 x 0.5 x 4.8 inches)
Weight: 105 grams (3.5 ounces)