Permaculture is the practice of modeling natural ecosystems that are self-sufficient and completely sustainable. We have talked about permaculture many times in the past including interviews with some of the top names in the industry and an article I wrote recently about a food forest in Colorado designed to provide fruits and vegetables for an entire mountain community.
While large-scale permaculture is a big business, don't underestimate the importance of practicing permaculture techniques at your home. Backyard orchards have never been more popular and provide families around the world with nutritious food throughout the year.
Permaculture has become so popular, in fact, that Permaculture Design Certificate courses are available from establishments throughout the United States and the world. The knowledge gained during one of these certification programs can completely change the way you think about gardening and how various components interact within any ecosystem.
I recommend that everyone reading this article take a permaculture design course in your area. You will learn everything from using cover crops in the off seasons to planting complementary species that strengthen your entire garden not just this year, but for every year in the foreseeable future.
As we move slowly out of winter and start looking to spring, there has never been a better time to learn the basics of permaculture design. Not only can it help increase your garden's productivity this year, but you may be able to generate a part-time income stream by helping others in your community start permaculture projects of their own.
The 3 Ethics And 12 Principles Of Permaculture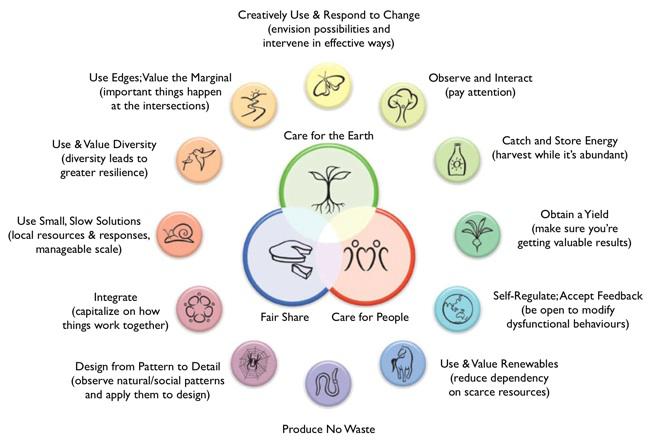 This week, I wanted to share 5 steps to becoming a part-time professional permaculture designer. Following these general guidelines, there is no reason why anyone cannot begin practicing some of these sustainability techniques. Even if you choose not to make a business out of it, the knowledge gained is beneficial for anything you do at home from planting a garden in spring to re-landscaping your front yard.
1. Get an Education
Learning to become an effective permaculture designer starts with understanding the basics of permaculture. Specifically, understanding how different plant species work together to create natural ecosystems that are self-sufficient and 100% sustainable should be the goal with every permaculture design project you undertake.
The easiest way to get started is to take a Permaculture Design Certificate course. Although I tried to find a singular resource that listed PDC courses around the country, it seems that most courses are listed geographically by region. My recommendation is to Google permaculture design courses in your area to find a course near you.
An alternative is to take an online certification course such as the one offered by Oregon State University or the one by world renowned permaculture expert Geoff Lawton (he has lots of great videos that you can get access to for free). There's even a completely free permaculture design course over at OpenPermaculture.com, but if you want to get a professional certification you'll have to pay for that part.
Although online courses lack the hands-on training typically associated with face-to-face permaculture courses, the basics are still the same and you can practice in your backyard before working with potential clients or on community-based projects.
There are also a variety of books and DVD training classes available. While these won't earn you a certificate alone, it is an excellent way to get started with learning about permaculture without ever leaving your home.
The #1 book on permaculture that's used as course material on PDC courses is Permaculture: A Designers Manual by Bill Mollison, and another great book with many practical examples of small-scale permaculture is Gaia's Garden: A Guide to Home-Scale Permaculture. You should definitely check out both if you're interested in permaculture, and before you go out and buy them you can always start by checking with your local library if they have the books.
2. Start Practicing
It's the same idea as practically any other hobby or small business venture in that practice makes perfect. Once you have completed a Permaculture Design Certificate course, you are technically a permaculture designer. The problem is that you do not have experience – but the only way to get experience is to start practicing.
A good way to get started is to offer some consultations and designs to friends and family for free. If you do a good job they will be more than happy to give you a good reference and you will gain valuable knowledge along the way.
The important thing is to start small and work your way up to larger projects. As a general rule, anything larger than 1 acre is way too large for your first few projects as there is a lot more to consider when working with large expanses of land.
Start in the backyard and work your way up from there as your experience and understanding of permaculture techniques improves.
3. Take Advantage of the "Permablitz"
One of the biggest obstacles you will likely face as you struggle to gain experience is lack of funding. Especially during the implementation phase of your permaculture design, there is often a significant amount of time, money and materials required to complete even relatively simplistic designs.
A permablitz is the idea that you can get a group of other people together who want to gain free hands-on experience working with permaculture techniques in exchange for helping to complete your designs
After all… you are technically a permaculture designer by now and many people will jump at the chance to work with someone that has the knowledge to successfully complete a permaculture project.
Another advantage to using this method is the networking opportunities presented by working with like-minded individuals in the community. What may start as a simple permaculture project for a family member could turn into a large-scale community endeavor as more people realize the benefits of permaculture design (especially in urban areas where the importance of sustainability is often overlooked in favor of convenience).
4. Establish a Permaculture Business
At this point, you have some experience under your belt and you have a portfolio of work that you have done for friends and family. Believe it or not, permaculture design represents a significant income opportunity for those willing to put in the time and effort.
At the end of last year, a permaculture designer with a portfolio and appropriate credentials could charge an average of $300 a day for consultation and implementation of a permaculture system on nearly any scale.
Keep in mind that this is a national average and in some areas the rate may be much higher. If you use the permablitz strategy mentioned above, your expenses per day will be very low meaning that most of that money goes right into your bank account as a professional permaculture designer.
At $300 a day, it could easily become a full-time job if you are so inclined or you could become a weekend warrior and work on permaculture projects in your spare time. Either way, the potential to make a significant income is definitely there.
5. Get Out There and Do It
This is definitely the most important step because it is so easy to become excited about an idea only to get distracted by the many nuances of daily life. Instead of becoming a permaculture designer, you read about it for a few days, look up some classes and before you know it summertime is over and it's back to the holiday grind.
By the way, I'm speaking from experience here…
We talk about many good ideas here at Resilient Communities and I understand that work, family and other obligations often make it difficult for us to spend as much time on sustainability projects as we would like, but I urge everyone to look at permaculture as something that we need to understand and implement whenever feasible.
We (humanity) spend so much time destroying our natural ecosystem (i.e. destroying soil with chemical fertilizers and pesticides) that as responsible members of the resiliency movement, it is our job to work with nature; not against it.
Permaculture offers a unique solution because we are mimicking the natural ecosystem that has survived for millions of years without any intervention from mankind and the result is natural, organic produce we can enjoy for years to come. All it takes is a little education and a desire to create change – even on a small scale.