Community Supported Agriculture (CSA) is a hot topic and has been for a few years as the demand for locally grown produce has skyrocketed throughout the country.
I am 100% in favor of joining a CSA (or two or three) if you haven't already but as is the case with so many things these days, technology may make the CSA obsolete just as it starts to come into its own.
A traditional CSA requires that you pay a specified price per share for a season's worth of fresh fruit and vegetables. The problem is that you never know what your weekly allotment contains until you receive it.
Maybe you didn't finish all the kale from last week's delivery yet and the new week's delivery arrives with – yup, you guessed it…more kale. This is perhaps the only real turn-off to the current CSA model and many people are hesitant to get on board for this reason.
Of course, there have also been several cases of CSAs going belly up recently which undoubtedly makes consumers leery. Most recently, the John Crow Farm CSA in Massachusetts suddenly shut its doors without so much as warning.
Investigations into the farm showed that the farm owner had declared personal bankruptcy and left subscribers with nothing to show for their shares in the CSA (some of which cost nearly $2,000 each). Unfortunately, these subscribers have little to no recourse – a serious problem for the current CSA model.
In our current age of instant gratification, consumers want what they want when they want it.
New mobile app technology is meeting this need by connecting farmers with consumers. Consumers can place orders for the produce they want, farmers don't have to waste time marketing (something most farmers are notoriously bad at) and costs remain low because these companies are only taking a small percentage to act as the "middle man."
One of these companies is CitySprout although other services like it are popping up around the country.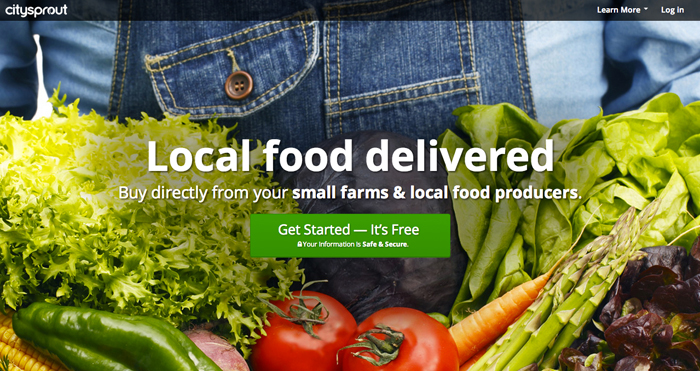 CitySprout works by providing a platform for farmers and consumers to trade. A sponsor location is required for pickup of goods purchased online – sometimes a school, a business or even a homeowner's association. CitySprout never handles inventory and takes a modest 15% of sales.
CitySprout even offers training to farmers participating in the program as the farmers are responsible for updating their online storefronts. This includes adding pictures of available foods and changing prices as required.
Fortunately, CitySprout has made this process extremely easy for everyone, including farmers who may not be especially tech-savvy.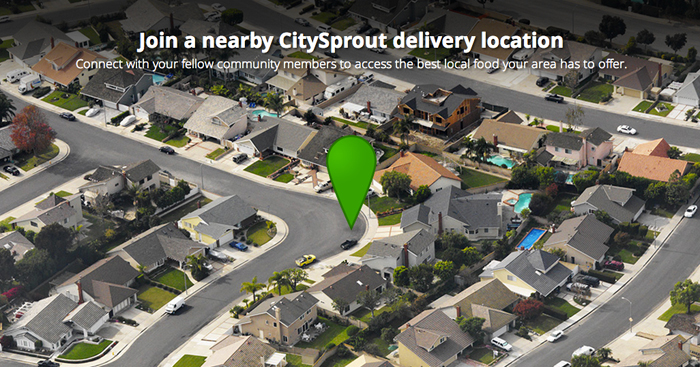 The business model makes a lot of sense for farmers who don't have the time or interest to launch a successful marketing campaign and the commission charged on each order by CitySprout is a small price to pay for a direct connection with local consumers.
Compared to other companies is this space – such as Good Eggs and Relay Foods – the CitySprout business model works very well and keeps costs low for the consumer because there is no inventory to manage or deliveries to make. Relay Foods, for example, actually buys inventory from farmers and stores it in a warehouse.
Once an order is placed, trucks owned and operated by Relay Foods are dispatched to make deliveries. While this model works well and has become very popular, consumers pay higher retail prices to cover the storage and transportation costs associated with services like Relay Foods. Good Eggs (a San Francisco-based company) works in the same way.
Whether you choose to use a service like CitySprout to connect directly with farmers or choose to purchase produce from an online grocery store like Relay Foods, the advantage is that you can choose exactly the produce you want, in the quantity you want, whenever you want.
CSA members, on the other hand, are forced to accept what they are given as part of their weekly share. Sometimes they make out well, other times the weekly basket can leave much to be desired.
CitySprout is based in Austin, TX but has immediate plans to expand to both Boston and Portland, OR this year with further expansions in the works as well. There is no conventional storefront which makes it much easier (and less expensive) to expand this business model. I won't be surprised at all if CitySprout explodes once they begin reaching new markets.
You might think that as people move away from the CSA model some of our local farmers will suffer. I think it's possible if farmers continue to do the same things they've been doing. My recommendation is to talk with your local farm and mention these new services if they aren't already familiar with them.
If farmers are willing to put in a little effort to use marketing services like CitySprout, they could actually increase annual revenues even if some people choose not to renew their CSA shares next year.

Don't get me wrong, there are definite benefits to our current CSA model. Farmers receive guaranteed income that is often necessary to purchase new equipment and try new crops that might otherwise be considered too risky but some consumers aren't happy with getting whatever produce the farm happens to throw in the box on a given week.
Technology has given us a new way to connect with local farms. The question is: are the farmers ready to embrace this technology as it becomes available?