I've never been a big fan of wire saws, you know the kind you usually see in survival kits.
They get stuck in the wood, plus the handles are often poorly designed so they're literally and figuratively a pain to use.
The SaberCut saw from Ultimate Survival Technologies is no wire saw though. It's more like a hand powered chain saw, in fact it's the same kind of chain that's used in regular chain saws with bi-directional cutting teeth.
I've put it to the test, and the results are in.
Performance – 5
I've tried cutting all kinds of wood with this saw. Branches, small trees, big trees, dry wood, green wood, you name it.
And the bi-directional "nonbinding blade" does cut well, in fact very well, as long as it doesn't bind in the wood. But it does get stuck. A lot.
Because the problem with a blade like this is that it's not designed for being powered by human muscles. It's designed for being powered by a chainsaw motor of several horsepower that enables the chain to move at 65+ feet (20+ meters) per second.
That's light years away from what any human body can accomplish, and it shows.
It takes a lot of energy to cut through wood of any decent size with this saw.
It's no problem to build emergency shelter in a life or death situation, but forget about using it for more extensive work because it takes too much energy.
The saw mostly binds in the wood around the final stage of sawing through a larger piece of wood, e.g. when you saw at a tight curve. This forces you to hold the handles further apart, but that gets tiring quickly. I did find that it helped to turn the wood 180 degrees when you're nearly through and then start cutting from the other side.
Overall I had high hopes for the SaberCut saw, but the performance did not live up to my expectations.
Construction Quality – 7
This is a pretty simple build: Two web handles attached with steel clips to a saw chain.
The 24 inch (61 cm) blade is made of black oxide coated carbon steel, and it looks and feels pretty much like any other chainsaw chain. And judging from the cutting ability the teeth are sharp enough for the job.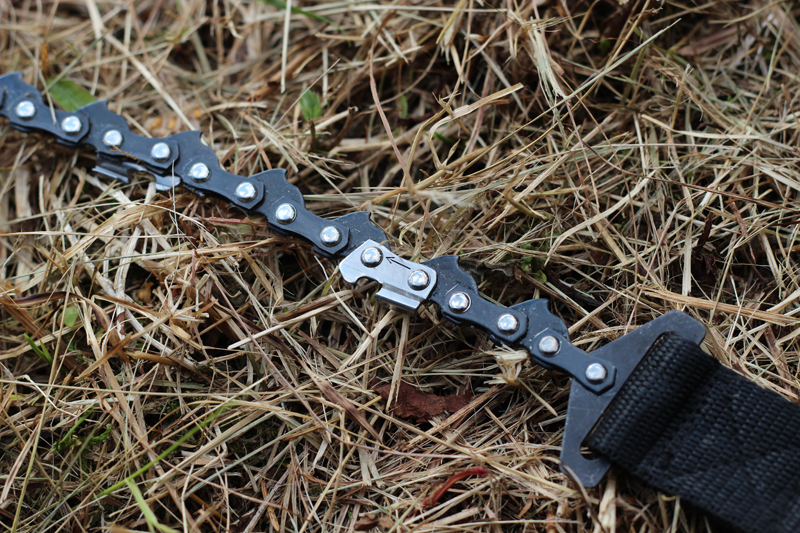 As for the web handles, they're made of nylon webbing that should hold up to some abuse, although I heard in some cases they've started to break after heavy use. That should be covered by the warranty though.
The sheath is made of ballistic nylon and features a quick-clip buckle and a sturdy belt attachment loop, and there's a cheap plastic feel about the sheath that I don't like.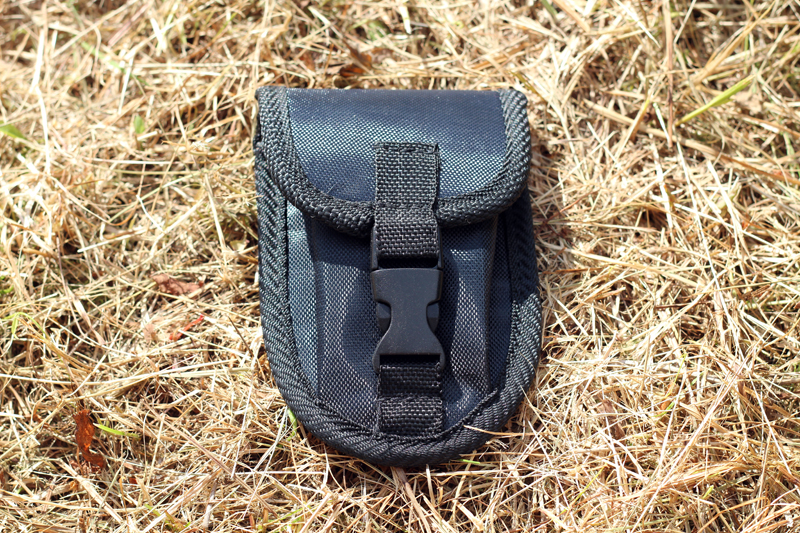 The product is made in China, but what isn't made in China these days? It still feels like a solid build.
Ease of Use – 4
The big web handles make it easy to use. I get a better grip by sticking my hands through the loops so I hold the handles with the loops running around the back of my hand.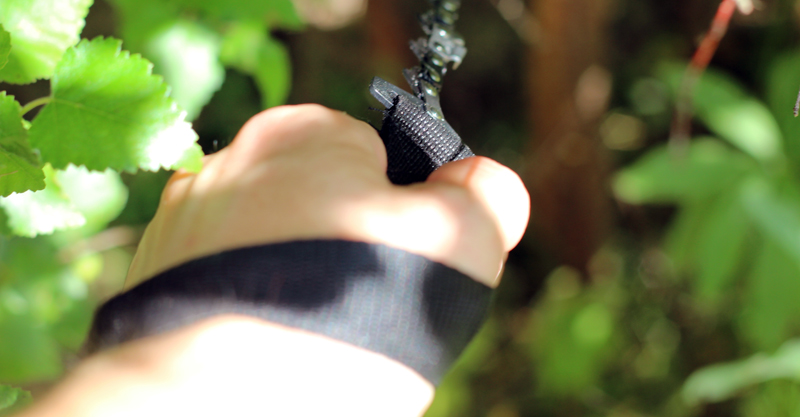 Now, to minimize binding in the wood while sawing you need to have a pretty consistent rhythm when you cut. It also helps to hold the handles further apart, but that's only practical to some degree because you tire quickly.
But this saw will bind in the wood, and when it does it can sometimes be a pain to get unstuck. Especially if you're felling standing trees that can "lock in" the chain in the cut.
And the other thing that detracts from the ease of use is the amount of energy it takes to use this saw. Because the blade is so thick it takes more force to cut through, and you really feel it in your limbs. To use this saw for any extended amount of time you need muscles. Big ones.
Put one man at each end of this saw though and you can power through a big piece of wood in a matter of minutes, so if you have someone with you in the woods then this saw could be a powerful tool.
Maintenance – 7
One big plus about the SaberCut saw is that the bidirectional chain is just like a regular chainsaw in that the chain can be sharpened when the teeth eventually get dull after long use. That's not possible on saws with hardened cutting teeth.
The only other thing that has a maintenance aspect to it are the handles, and I wouldn't expect those to last a lifetime. Without handles the saw is worthless, but you should be able to craft some new handles out of any other sturdy textile and attach to the steel clips.
Brand Reputation – 8
Ultimate Survival Technologies (UST) is since 2010 a part of Florida-based family company Revere Survival Products that has manufactured survival equipment since 1936.
UST is focused on personal survival and their line include everything from all-weather fire starting systems and unbreakable signal mirrors to whistles, and kits in which the tools are combined.
Some of their more well known products in the outdoor space is the Blastmatch fire starter, the StarFlash signal mirror, and the JetScream whistle. I've owned both the StarFlash signal mirror and the JetScream whistle and they're both great quality products.
Many of their products are on the high end of the price scale though, but in many cases that also reflects in the quality of the product.
Guarantee – 8
The SaberCut saw comes with a lifetime limited warranty, which is pretty neat. However, note the word limited. Here's the full warranty description:
Revere Supply Company warranties this product to be free from defects in material and workmanship for the life of the product. Warranty does not apply to abused products or normal use, wear and tear
What's deemed "normal use, wear and tear" they don't say. Does a snapped web handle a few years down the road count as normal wear and tear or does that imply a defect in the material? I'd guess the former.
Still, a lifetime guarantee carries a lot of weight even if it's limited.
Sustainability – 4
From an environmental standpoint it's naturally more sustainable than an actual chainsaw both in production and in use, but from a personal standpoint it's just not a sustainable way of cutting wood. You'll expend too much energy so it's not worth the effort.
Self-Reliance – 4
The SaberCut saw is a cool gadget, but it won't help you become more self-reliant long term. It could potentially be of good use during a survival situation if that's what you choose to bring with you in a survival kit, but that's about the only good use I can see for it in terms of self-reliance.
Value – 5
I paid $15.97 for mine on Amazon, but at the time of this writing you can get it for $14.97. If you add five bucks to that price you can get a Bahco Laplander (see our Bahco Laplander review here) and if you add $20 you can get a 21 inch Sven Saw. I would say both of those are superior value and performance than the SaberCut saw, but on the other hand they're a whole other category of saws.
Compared to other wire saws the SaberCut is on the expensive end, if not the most expensive. The #1 bestseller and competitor to the SaberCut is the Chainmate 24 inch Survival Pocket Chainsaw, and at $9.75 it's 35% cheaper yet still has very favorable reviews.
All in all, I think there are better saws out there with more bang for your buck and above all more cut wood per energy unit spent. If you're dead set on getting a wire saw for your survival kit then you might find it worth the money, but for an allround saw I'd get something like the Bahco Laplander instead.
Excitement – 4
As I've mentioned I had high hopes for the SaberCut saw because of the overall high quality of UST's other tools. But it failed to impress me. Sure, it cuts great when it cuts, but it requires too much energy to be practical for extensive use.
I can see the appeal as a survival tool or back up saw and will probably put my SaberCut saw in the car in case I need to clear the road from a fallen tree, however it's not something I'll see myself using very often.
Specifications
Length (blade): 24 inch (61 cm)
Dimensions (sheath): 8.2 x 7 x 2.2 inches
Weight (saw and case): 6 ounces (170.1g)
Origin: USA
Item model number: 1WG0180