I've been looking for a solar charger kit that I could compare to the 7 watt Goal Zero Guide 10 Plus Solar Kit that I reviewed here, and this 6 Watt Solar Charger Kit by Voltaic Systems fits the bill.
This 6 watt kit is more bare bone than the Guide 10 Plus kit being basically just a solar panel, a battery and an assortment of cables and connectors. It's cheaper than the Goal Zero kit, but my impression is that it's still a solid kit that works well for charging smartphones and other smaller gadgets.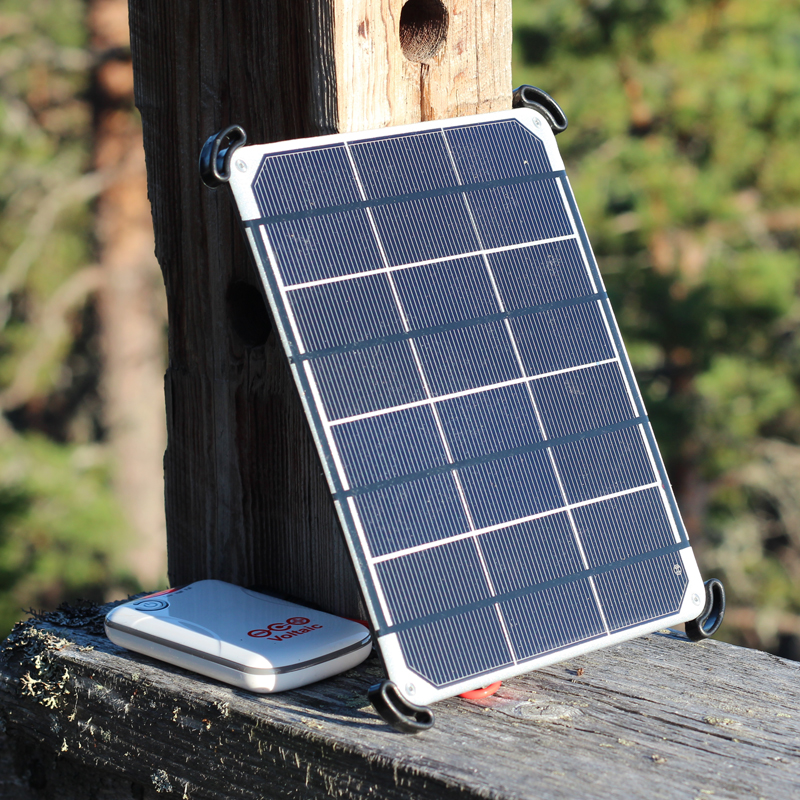 Close up of the Voltaic Systems 6 Watt Solar Charger Kit
Performance – 7
Charging the V15 Battery
When charging from solar I found that it took around 8-9 hours to fully charge the V15 battery from direct sunlight with some cloud coverage every now and then.
The first 3 of the 4 LED indicators on the battery lit up within 4 hours indicating a 75% charge, but after that it took a few more hours to get to 100%.
After talking with Voltaic Systems this seems to be what you can expect with this kit:
A 6 Watt panel will take about 3-1/2 hours of direct sunlight to charge the V15 battery to about 90-95% capacity. After that the current decreases to protect the battery, and it will take another few hours to get up to a full 100% charge. The battery has LED indicators to let you know how full it is, but the final 4th LED will only activate when the battery is completely charged. Overcast cloudy weather or sun obstructions (trees, buildings, etc) or charging from inside a window as opposed to outside will increase the charge time.
So even when it's cloudy it will still charge, but naturally it takes much longer to charge the battery during cloudy weather.
When charging from a power outlet using the USB charger for my phone it took a little over 7 hours to fully charge this 4000mAh battery, and that's 2 hours faster than Voltaic Systems own estimate. Still, 7 hours is a long time to charge a 4000mAh battery. To put it in perspective I can charge a battery of triple the capacity (12,000mAh) in just 8 hours. So they've got room for improvement in this area.
Charging a Galaxy Nexus 5
I had no problem charging a Galaxy Nexus 5 both directly from the solar panel and from the V15 battery. I have not measured charging times when charging straight from the solar panel but rather just checked compatibility.
When charging from the battery however it took close to 3 hours to fully charge the 2,300 mAh battery, and I could get 1.25 full charges out of the battery.
Now, 1.25 x 2,300 mAh battery puts the real capacity of the V15 battery at 2,875 mAh and with a 4,000 mAh stated capacity that gives us an efficiency rate of around 72%.
That's close to what seems to be the industry standard of 70%, but far off from the Anker 2nd Gen Astro3 (my review here) that has an efficiency rate of 80%.
Where does the other 20-30% go? As with any external battery, power is lost from circuit heat and voltage conversion within the external battery as well as in the charging cable and the device that's being charged.
1.25 charges is good enough for day trips and as a short term emergency backup, but personally I'm not quite comfortable with the low capacity. For a higher capacity battery you can upgrade to their V39 battery that has more than twice the capacity at 10,600 mAh, but of course it will take much longer to charge that battery.
Compatibility
The V15 battery and the solar panel works with all Apple, Android and Blackberry smartphones, as well as many other USB devices such as the GoPro camera.
It also works with most tablets that are powered via USB including Apple iPads and Samsung Tablets, and I've personally tested it with my Amazon Kindle Touch and Kindle Fire and it worked without issues. It's not however compatible with DSLR cameras or with tablets that charge via 12v or 16v.
Voltaic Systems has a wide range of adapters and cables though that can extend the compatibility. If you don't know what you're after it can be confusing, and in that case I recommend you get in touch with the Voltaic Systems team and I'm sure they'll be glad to help you find the right adapter for your needs.
Flexibility
This part is what I like the most about Voltaic Systems solar panels. The solar setup is easily extendable, so if you want to add more power to your setup you can hook up another solar panel using one of their circuit boxes.
So if I wanted to I could buy two more 6 watt panels and a 3 Panel 6V/18V Circuit Box to get a 18 watt setup that's big enough to charge laptops.
Construction Quality – 8
The solar panel is light weight and feels bomb proof with its urethane coating and 3mm aluminium/plastic composite substrate. It's a solid water proof construction with four corner mounts that will allow you a range of mounting options.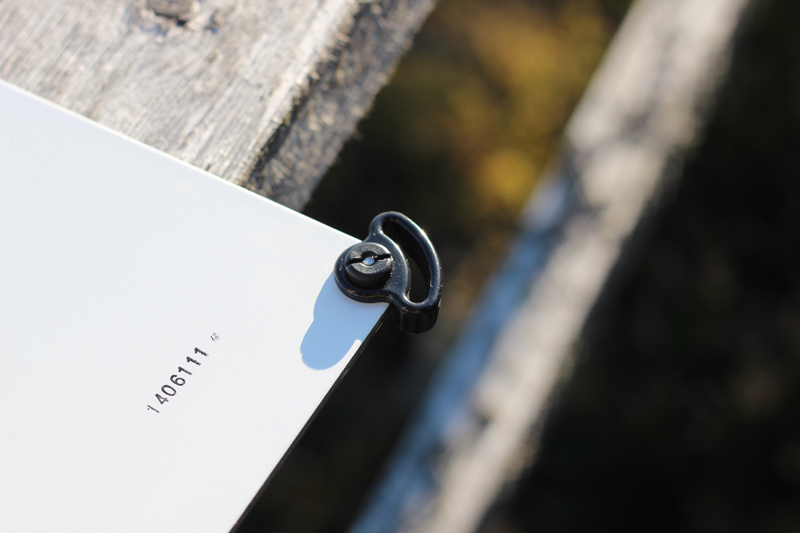 The corner mounts that you can use with zip ties, rope, or whatever fastening method you have available
The four corner mounts stick out quite a bit outside the solar panel, and this is both good and bad. It's bad because they're made of plastic and chances are that they will break if you drop the solar panel on a hard surface and it lands on one of the corner mounts. It's good because of the very same reason, that the corner mount takes the hit rather than the solar panel.
The only other weak point of the solar panel that I could find is the cable on the back. It's attached with two screws to the solar panel but it's still exposed to wear and tear, so if you have anything sharp in your backpack you run the risk of damaging the cable.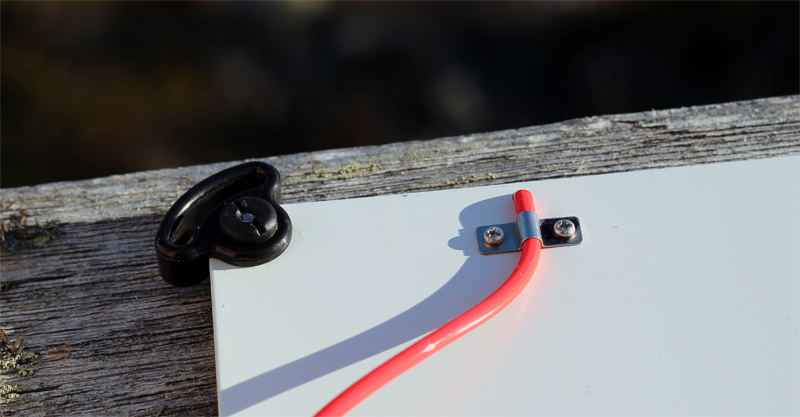 Back view of the 6 watt solar panel
As for the 4000mAh V15 battery, it's definitely not waterproof and it does not give you the same bomb proof feeling as the solar panel does, but despite being all plastic it still feels good in your hand and does what it's supposed to do.
Overall the construction of this kit is basic with no bells and whistles, and for me this is a good thing.
Why?
Because when it's not built into a backpack or some other case it gives you a lot of flexibility to adapt it to your existing gear or if you prefer to mount it on your house, your car, your boat, etc.
Ease of Use – 9
Using a solar panel does not get any simpler than this. Point the solar panel to the sun (ideally at a 90 degree angle) and then either plug the solar panel straight into your smartphone / tablet / gadget using the included mUSB connector, or plug it into the V15 battery with the same mUSB connector.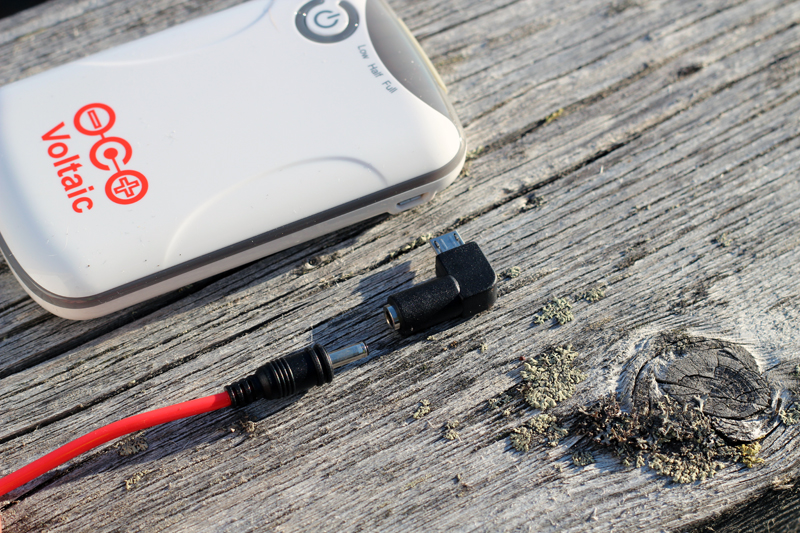 Connecting the solar panel with the battery
Just make sure you don't lose the mUSB connector because then the solar panel will be quite worthless. As you can see in the photo the connector is quite small and could be easily lost, and to be honest I'm sitting here right now wondering where mine is, I hope it's in my backpack! (found it!)
When you start charging the battery you'll see the four LED status indicators will light up, showing you the charge level. They'll blink until fully charged, at which point they'll shine a steady red light.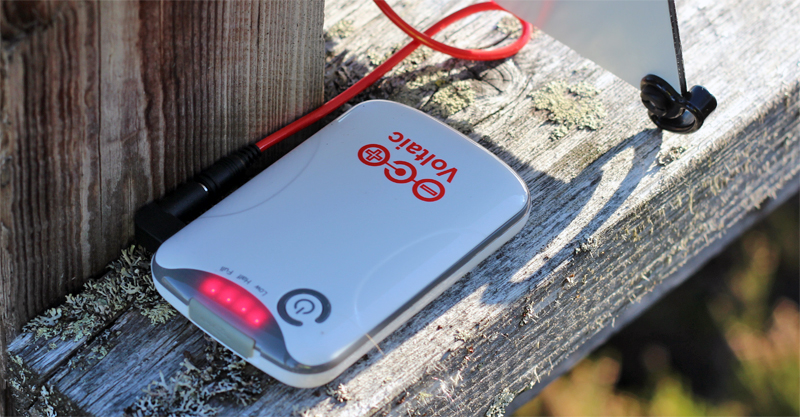 LED indicators on the V15 battery
Maintenance – 7
The only maintenance to speak of is that you should recharge the V15 battery at least every 5 months to preserve the battery life, and of course during active use there's the part where you have to constantly recharge the battery.
Brand Reputation – 8
Voltaic Systems is a portable power company based in Brooklyn, New York, that was founded back in 2004 by current CEO Shayne McQuade, and it's one of the first solar charger companies that caught my attention. They're not as well known as their biggest competitor Goal Zero, but they're still known for making quality products and providing excellent customer service.
I've seen a few cases where users have experienced issues with their products, but in every one of those cases Voltaic Systems has sent a replacement without hesitation and have even taken in the defective product to research the cause of the failure so that they can incorporate the lesson into future versions of the product. That tells me that Voltaic Systems is here to stay.
Guarantee – 8
Voltaic Systems cases, bags, and solar panels comes with a 2 year warranty for defects in materials and workmanship. Batteries have a one year warranty from the date of purchase. So if your product or a specific component fails within that time period they will repair or replace it.
Not only that though, but after the warranty period has expired they will still replace any part for 30% off the retail price as long as they have the part in stock and you have proof that you purchased the product new.
As is common though the warranty does not cover failures due to abuse, misues, accidents, etc.
But 2 years for the cases, bags and solar panels and 1 year for the batteries is double the guarantee period of Goal Zero, and in my mind this is yet another sign that Voltaic Systems is committed to keeping their customers happy.
Sustainability – 7
Voltaic Systems admit that their products take energy to manufacture and ship to their customers, but they seem to be doing their best to conserve resources and thread light on the environment.
For example throughout their product lifecycle part of the work includes identifying and using environmentally preferable materials (e.g. Recycled PET over Nylon), making products modular for easy repair, choosing solar panels that have a long timetime, eliminating uncessary packaging, and reusing as much as possible.
They also support individuals and organizations who are tackling energy and conservation problems, for example by giving away solar gear that helps power pollution detection equipment in Nepal or helping anti-poaching teams keep their laptops charged.
Self-Reliance – 7
This 6 watt kit can help keep your smartphone and other small gadgets charged when you're on the go and during power outages, so yes it does help significantly with that aspect of self-reliance.
But the kit is limited by both the 6 watt power rating of the solar panel and the low 4000 mAh capacity of the V15 battery.
However, if you're a light smartphone user and just want to be able to make phone calls and communicate when it counts, then this kit can make all the difference in the world.
To deserve a higher Self-Reliance score I'd expect a solar system with more power and more battery capacity.
Value – 7
You can get this kit on the Voltaic Systems website for $85. Purchased separately the solar panel cost $49, the battery pack cost $35 and the MicroUSB adapter cost $6, so you save five bucks by buying this kit. Not a very impressive savings if you ask me.
You'll get the option of upgrading to the larger V39 battery that has a $10,500 mAh capacity, and the $39 upgrade might be worth it depending on your needs.
A good alternative would be to skip the upgrade and buy another battery separately, for example the Anker 2nd Gen Astro E4 that has a 13,000 mAh capacity with a price of $29.99 on Amazon (it's the #1 bestseller). This will essentially give you 7,000 mAh more battery juice compared to going with the $39 upgrade.
The Guide 10 Plus kit by Goal Zero cost $119.95 on Amazon so it's 41% more expensive, but that battery also has more than twice the capacity of the V15 battery so the higher price is motivated.
Can you find something cheaper yet with the same specs as this kit? Possibly.
Take for example the Poweradd 7 watt solar panels at $29.99 coupled with the Anker 2nd Gen Astro E4 at $29.99.
At a total of $60 this improvised setup will give you both a higher power rating and more than double the battery capacity, but it might also come with compatibility issues and lack of warranties, but that's beyond the scope of this review.
Excitement – 7
Some people might not like the bare bone construction of this 6 watt solar kit, but I do. I wanted a rugged and flexible setup that I could adapt to both wilderness use and homestead use, and this is it. To be honest I'll probably carry both this and the Guide 10 Plus kit with me into the wild, and something tells me that my fellow travellers will love me for it.
The low capacity battery brings down the excitement a bit, but the quality of the solar panel more than makes up for it.
Specifications
Size of Solar Panels: 8.7 x 6.9 x 0.2 in (22 x 17.5 x 0.5cm),
Size of Battery: 4 x 2.5 x 0.5 in (10.2 x 6.35 x 0.16 cm)
Weight: 1.15 pounds (521g) including battery and solar panels
Solar Panel Output
Monocrystalline cells – 19% efficient
Open Circuit Voltage: 7.0V
Peak Voltage: 6.0V
Peak Current: 1.02A
Peak Current: 6.1 Watts
Solar Panel Construction
Urethane coating
3mm Aluminum/Plastic composite substrate
Panel Mounting and Cables
4 screws on back corners of panel allow multiple mounting options
Output cable is 8.5 inches, 22cm long and connects to V15 battery via included adapter
V15 USB Battery
Capacity: 4,000mAh, 15 Watt Hours
Output: 5V/1A USB
Input: 5-6V, 1A
Battery Type: Li-Polymer
Protection: Short Circuit, Over Charge, Over Discharge, Over Current, Over Temperature